Studio Spaces
I recently began a week in London visiting the Brixton studio of portrait painter Sara Lavelle. Preliminary sketches, canvases in progress and soft back sketchbooks offered glimpses into the working process of Sara as a painter, as we discussed the importance of human psychology, her recent appearance on Sky Portrait Artist of the Year and her technique in understanding her sitter.
Unlike any other studio visit, I also became the subject matter for one of her latest studies – being a painter myself, sitting in the reverse position allowed a new kind of perspective..
When did you first become interested in art and design?
I knew I wanted to be an artist since I was about 5 – I discovered one of those forms you fill out with your ambitions as a child recently and it was top of the list, so I guess that has stuck! I was awarded the art scholarship at my school which really committed me to it as a subject – I specialised when I was about 16, studying a combination of art, history of art and French, so I had a strong sense of direction within art across various disciplines. I actually began an Art and History of Art course at Edinburgh but I just didn't feel quite ready for it so that is when I turned to the foundation at Falmouth. I already had my place at Brighton for Illustration so that somewhat swayed the work I did on my Foundation – a lot of children's book illustrations. At school I was very conceptual, a 2m sculpture made from perspex was far more my thing, I didn't actually paint much.
Falmouth encouraged my interest in illustration which I continued to push when I started my degree but combined with quite sculptural elements. During my second year I got given the chance to go and do an exchange in the Minneapolis – that was the turning point for me, being allowed to pick my own modules. I completed six courses, one of which was painting – my tutor was initially hesitant to have me on the course with a background solely in illustration but by the end he didn't want me to leave which was lovely and gave me a real sense of encouragement. He took me seriously as a painter – that was the fist time I felt that painting could be the direction to head in. I didn't really know what I was doing and being in another country didn't have many materials or the budget, so I would water down any paint I bought with linseed oil to make it last longer, and naturally that kind of became my style of working. When I was there I didn't know what to paint – I didn't have much subject matter but I know I had myself so I worked on a lot of self portraits which also initiated the beginning of the conceptual element to my work. I've always had a big interest in psychology, particularly surrounding my own mental health – painting became a way to figure out more about myself. I worked out there for a term – I found the transition going back to Brighton quite difficult – my tutor in America was very conceptual and he really pushed painting to stand by itself, but back in Brighton illustration was something that had to be communicated and given through a clear message - a style that didn't really fit naturally with my painting.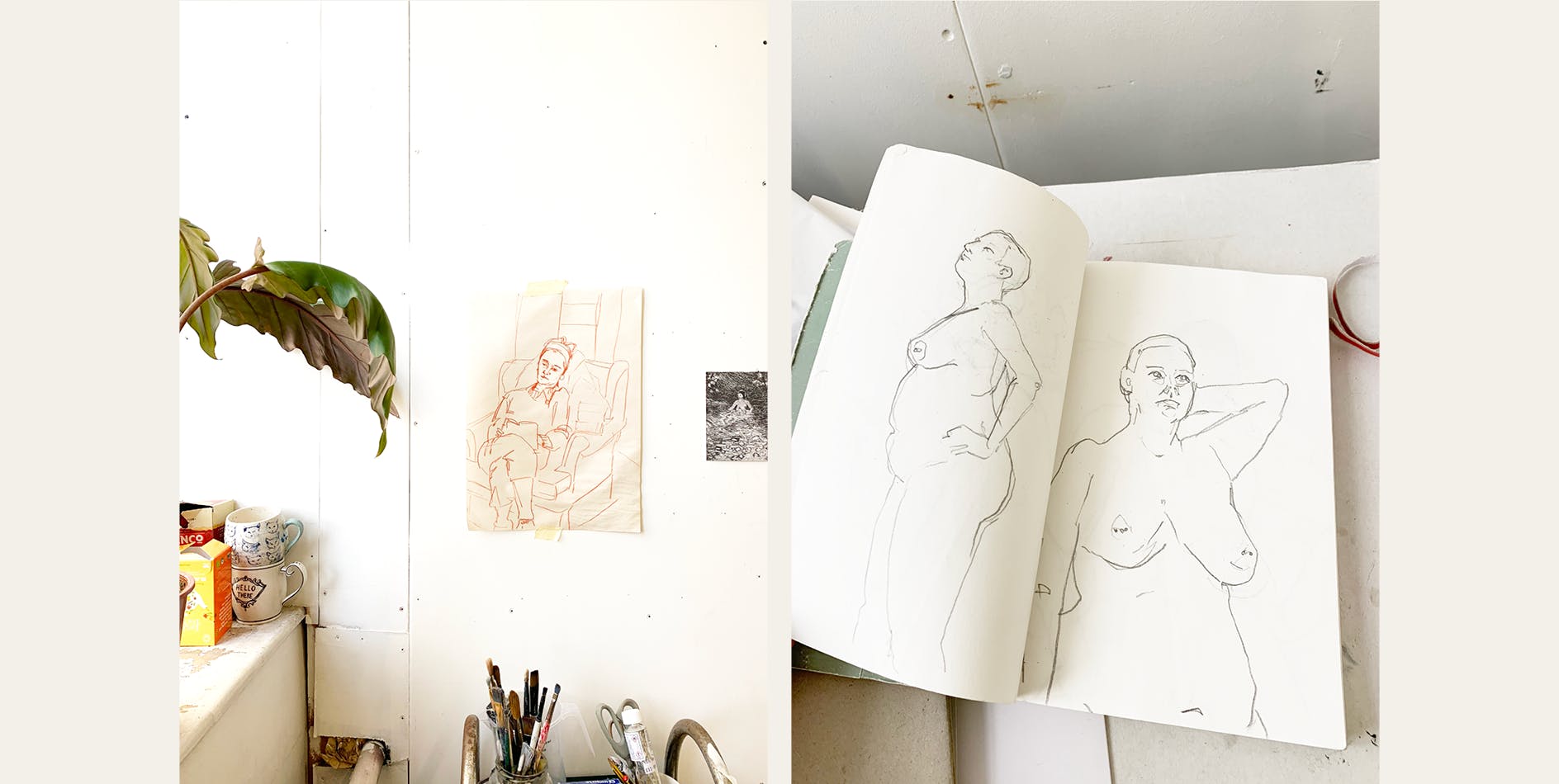 Since you've graduated, has your primary focus been on your painting?
I did a recent feature in Wallpaper magazine – they contacted me in November to commission six portraits over five days to form illustrations for the contributors page. This had an illustrative feel to it as I was set a brief, but I worked in the medium of paint. I would send them studies and they would reply with changes they wanted adding or elements adjusting – so the nature of how I painted took on more of an illustrator's role rather than a portrait artist. It was one of the first times I was able to combine my portraiture with an illustration commission – I hadn't really made that bridge before – has opened up a new harmonious ways of working. I really respect Wallpaper as a publication so for them to see my portraiture in an illustrative form was very up lifting.
Do you explore human psychology throughout your painting or just specifically within your self-portraits?
Incorporating the human psychology element can become a little bit difficult when working on a commission someone has specifically asked for. I've recently taken part in Sky Portrait Artist of the Year – the show works in that you do four hour timed poses and as I progressed into the finals, each of us were given a commission that worked over two weeks which we could work on in our own studios. I was asked to paint an opera singer – a really beautiful lady, very glamorous, but with an essence of self-consciousness. When I met her to initially draw her, she asked if I could make her look quite pretty in the final outcome, which isn't always the way I work – I don't aim to paint in a faltering way, so I took this as an opportunity to explore something a different but still in-line with what I care about. She had a very kind face and that was what I really wanted to come through – I focused on that throughout the painting. I am far more interested on the human psychology element than achieving likeness, I feel it is a necessity to display some-ones internal state – that is when you really touch their inner feelings.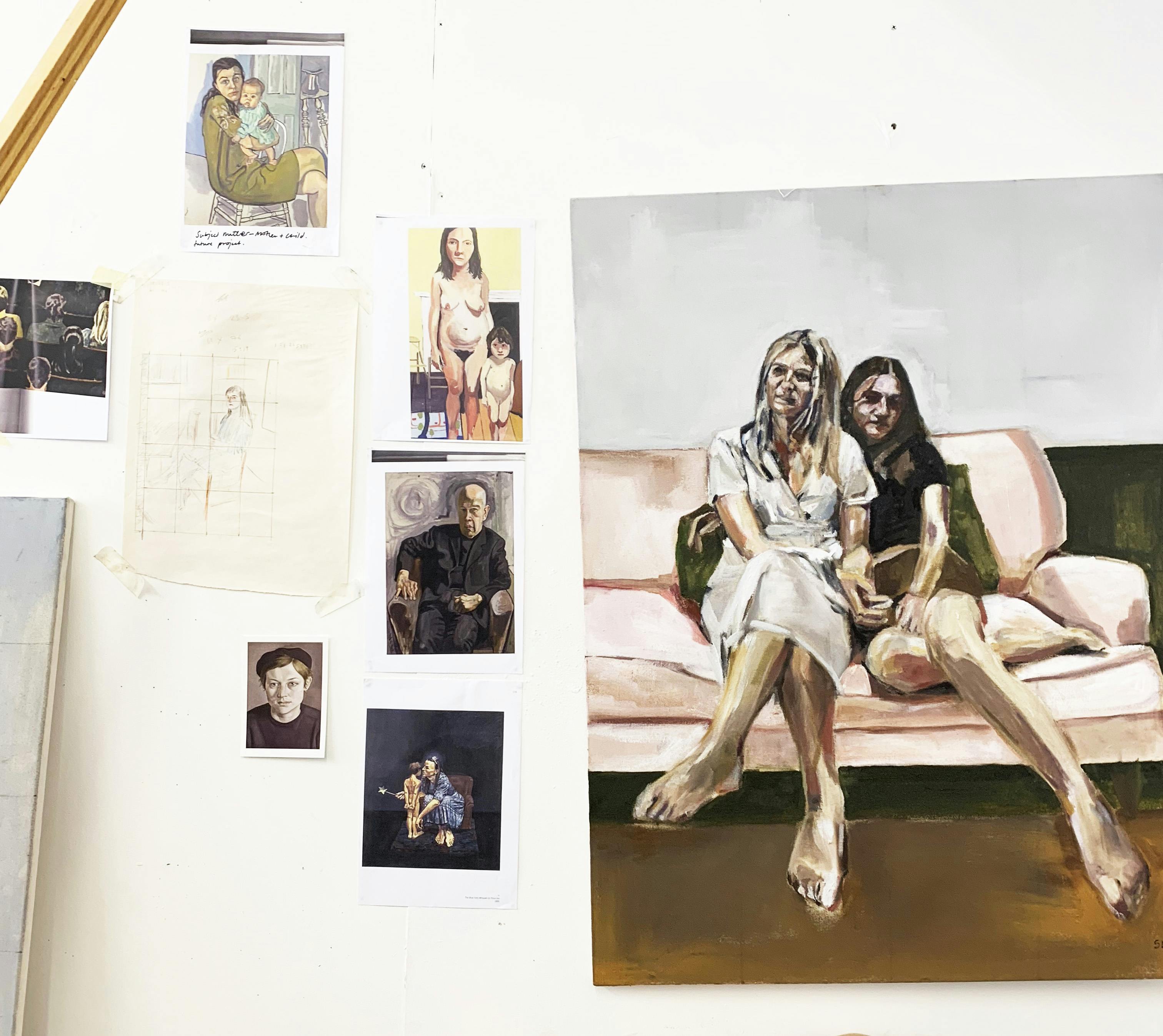 Does colour play an important role in your work?
It does now, yes. I didn't really get taught how to use paint but in America that is when I really threw myself into it and was the place I produced the painting that got me onto the show. I didn't even think about the painting whilst I was working on it; suddenly my face was there on the canvas. I often go into a bit of a trance when I paint a face, breaking down the colours in the skin without necessarily stopping to notice what is going on on the canvas. When I return I can see those colours much more objectively that whist I was absorbed in the moment of painting. I find that really exciting – since that process of pushing my work, I've tried to take those colours that I see intuitively and push them more. I've begun to work with oil pastels and coloured pencils more often as I don't then have the option to mix so many colours. If I see a little bit of blue under the eye I'll reach straight for the cobalt blue oil stick and have to use it as pure pigment. That has played an important role in pushing my use of colour as a tool. I had a very traditional education at school – life drawing every week, and were never allowed to work from photographs, so I think I've trained myself to be quite accurate and anatomically correct – which can sometimes have the reverse effect and hinder the looseness to my work.
Do you always produce preliminary sketches before painting?
I've just started mapping out a canvas on paper – I don't always – but it helps give guidance. I'll map large coloured marks that indicate significant elements to be painted – spots to focus on. Being so absorbed in painting, I find it hard not to look at people without breaking down their face into segments of colour – it can be really distracting! I'll find myself doing it on the tube, just staring at people without realising! I had a lovely message from someone in Amsterdam who had picked up Wallpaper magazine, and said they were a portrait artist. They asked how I achieved likeness, so I explained the method of completely breaking up the structure of the face and seeing it as series of lines and forms. That is the element I enjoy the most about portraiture and why I am probably drawn to the figure so much. I wish I was more interested in painting other things – I really struggle to translate the method of painting a portrait onto a still life object – it is the shadows I find particularly hard.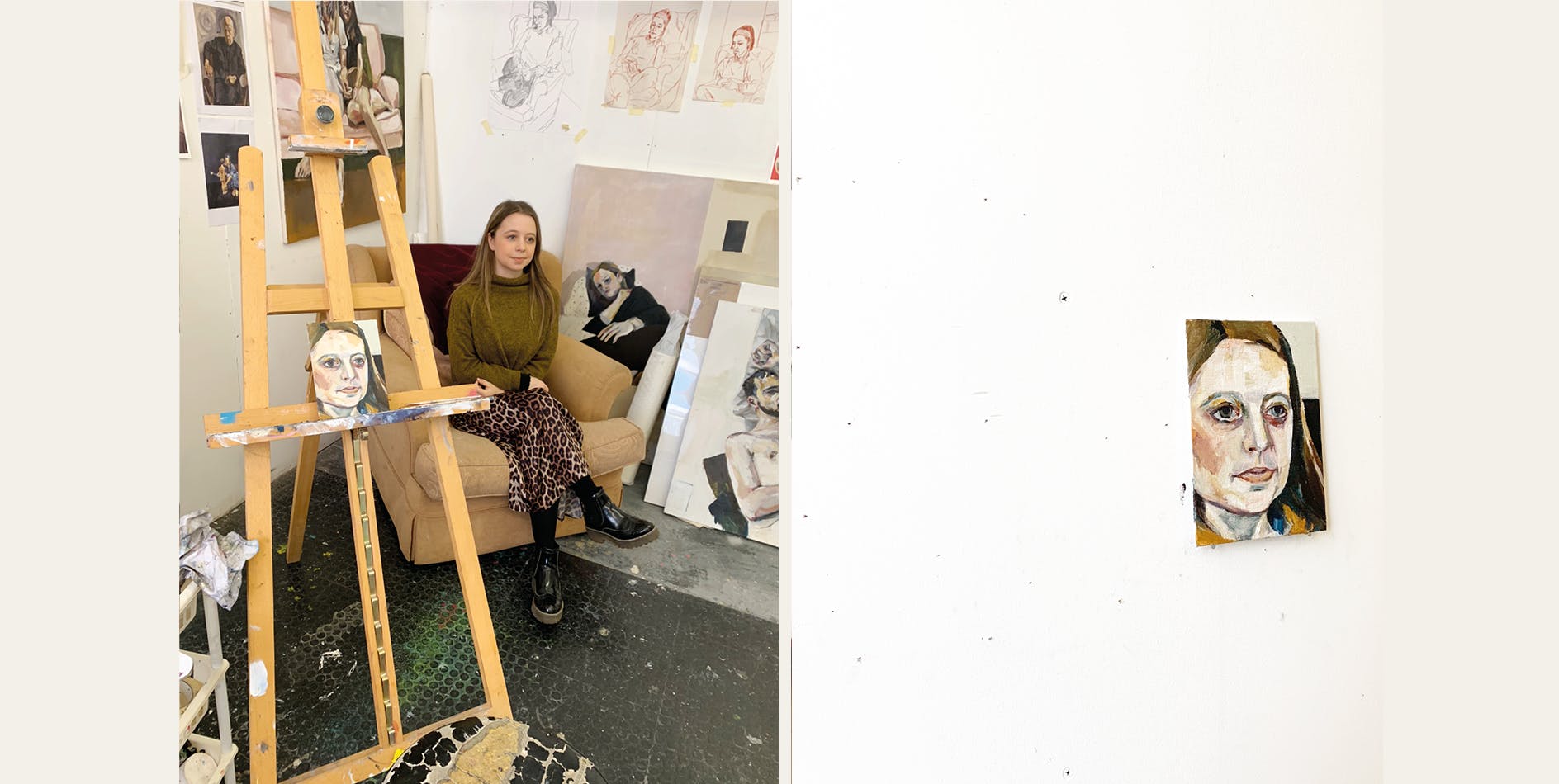 Do you enjoy working in a collaborative studio?
It helps hugely – Cecci is very contemporary and fresh with her ideas, and as I work with a traditional medium and subject matter, my biggest struggle is to keep it contemporary, so having her around often encourages this. We do get quite distracted, being best friends we can chat away for ages, but it is also nice to be able to talk about our work and offer opinions. That is the nice thing about having sitters so often to paint – they show interest and offer feedback on your work, which at uni wasn't so easy.
Are there a few artists work you are particularly drawn to at the moment?
The list is pretty long! I reference Alice Neel a lot at the moment, her paintings are really exciting – she was painting at a time when portraiture was particularly unfashionable but she pushed what she really loved and I thinks she manages to perfectly grasp human emotion in her paintings without it being explicit. With someone like Lucian Freud, who is always going to be the god of portrait painting, he definitely manages to capture feeling and the psychology of people, although I do feel that many of them contain elements of a self portrait and often ask you to read the painting in a certain way. I like Alice's work as she captures that in a far more organic way. I think that is why I started painting people – I've always been quite a self conscious and shy person, struggling with ideas of my own identity – when I paint someone I can visually capture a relationship between myself and someone else which is something quite ambiguous and foreign to me.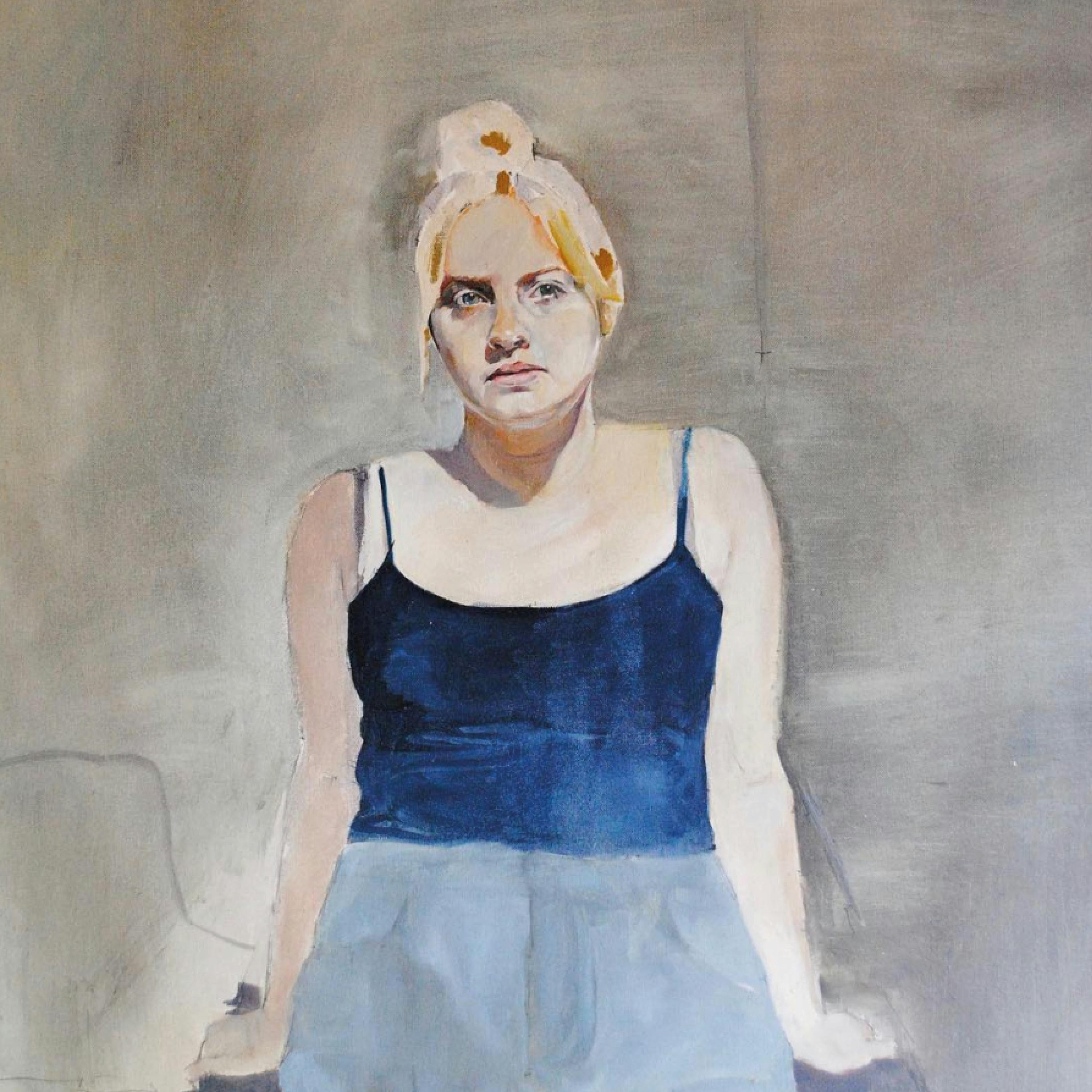 How important are sketchbooks to your practice?
I always have a sketch book on me – I am starting to notice all of my sketches are of people in cafés or on the tube – it is the time I can stop and look at people. Sketchbooks are my sketchbooks for a reason – I am not one of those people who are meticulous about them. I am not always 100% proud of the work but they can often trigger or feed into new works.
I am more confident as a draughtsmen than a painter bizarrely, as that is what I trained in with my illustration, so I've almost developed a short hand with drawing to be able to get a figure down in an immediate way.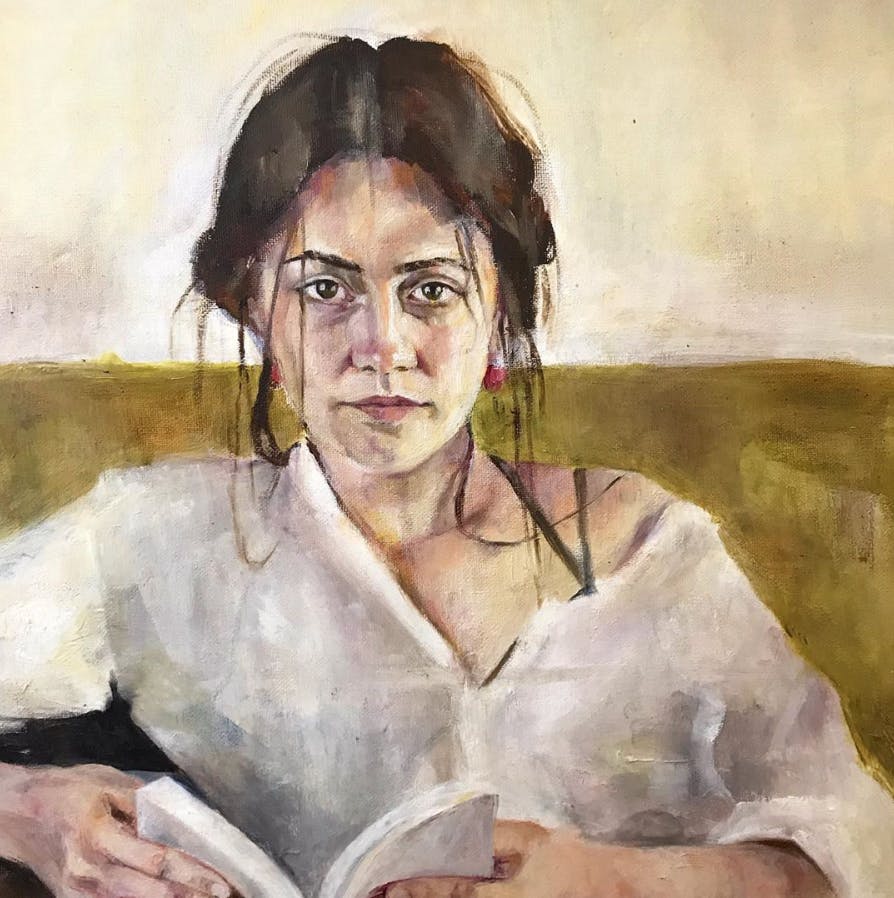 Going to exhibitions – do you take inspiration for your work in this way?
I try to go to as many exhibitions as I can – there are some exciting shows on at the moment that I am looking forward to. If I feel like it I'll pop into the National Portrait Gallery – it has that fabulous room full of works by the likes of Vanessa Bell – just popping in there will sort me right out and get me back into my work if I need to! I should make use of the collections at the National Gallery more, oh and the V&A – studying from their figurative sculpture strengthens my anatomy.
I presume you prefer to work form life than photographs?
I like having the combination – I struggle to just paint from photographs as there just isn't enough information – my process is to continue painting on the canvas until I feel that I can see the person on the canvas, which at that point I know its done. When I don't know the person at all then I find that difficult to gage – it can be a distorted representation of that person, so it is important to have them in front of you.
How do you structure the composition around one of your sitters?
Composition is something I have struggled with in the past – I am looking to focus on it more now. A previous module at uni surrounding Japanese illustration helped a lot – they use the environment and the space as a compositional tool rather than a descriptive one – so flat planes of colour rather than shadow. I've tried to do that quite a lot and as I am not so interested in painting the content that surrounds the figure, using blocks of colour works well for me – that makes it a composition.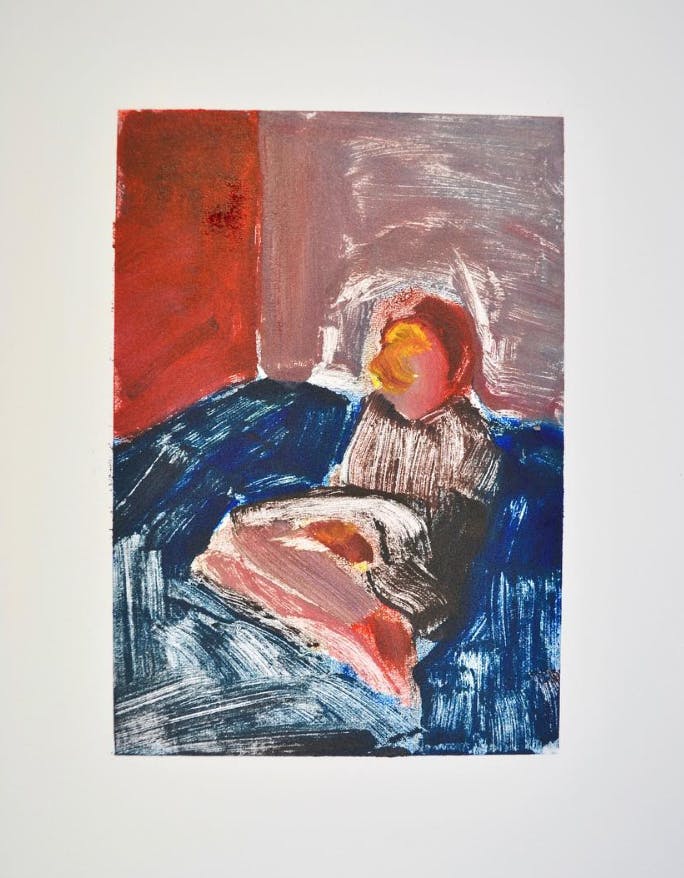 Do you take photographs whilst out and about to work from?
I am actually working on a large painting at the moment that was captured through a shop window in Brighton – I like how it is quite ambiguous and the unusual structure of the space it offers, but I am struggling with the lack of knowledge I have of the girl. It has naturally become more of a self portrait and a display of feeling rather than that of the girl in the photograph, which I quite like. Usually I know the person I am working from – I couldn't work from someone else's photograph – I'd need to have that element of control in some form for it to be successful. Ideally, I would always have a sitter in front of me – if I could do what Frank Albach did and have sitters for 3 years that would be amazing, but people aren't so keen on that!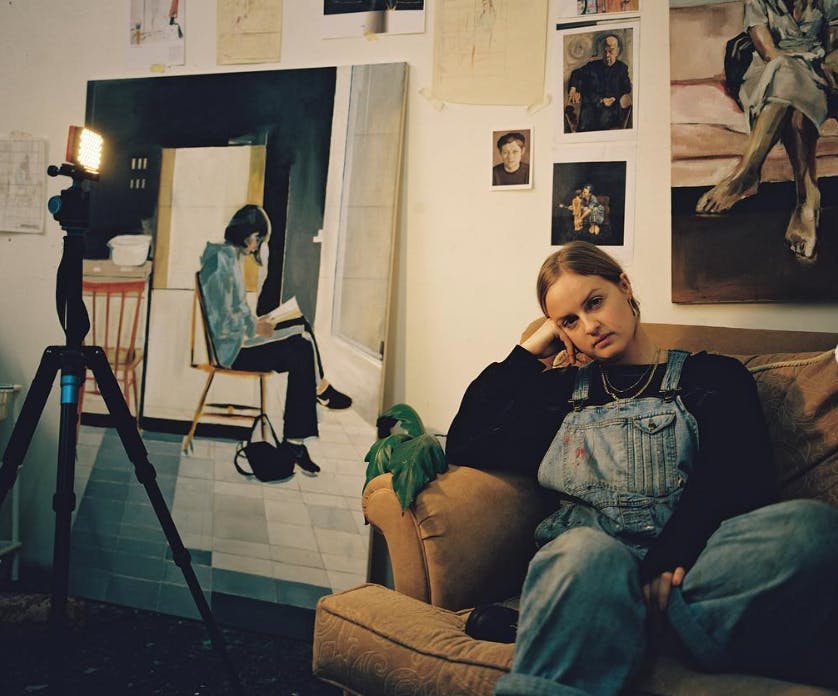 Do you have any work in galleries at the moment?
I am trying to put on a solo show in a few months – I am just waiting to hear back form a few galleries. I do have a show lined up in Hastings in August with one other artist – a mixed body of work, both painting and sketches. I am trying to develop my sketches into more final like pieces so they hold the same presence as a finished painting.
Now you're fully focused on your painting as a career, do you see yourself staying as a painter in London?
Now that I've got my space, I've realised that you can paint wherever you like, it doesn't have to be locational. London is great because there is so much going on and everybody is here – I can have sitters come all the time and I can visit other artists. As long as I am connected to London I think I'd be alright. I don't know if London is where I want to be in the long term, it can be very isolating. It was so different from where I was in Brighton, having friends just around the corner you could walk to. I think it is the fast paced nature of London and how expensive a standard of living is here, meaning people have to work so hard to make it work that I find difficult. I find myself working out how many paintings I have to sell to make a living, which does put a strain on my practice, obviously its a bit of diva thing to say, but it would be lovely to have a more experiential sense of freedom sometimes.
Return to posts