Studio Spaces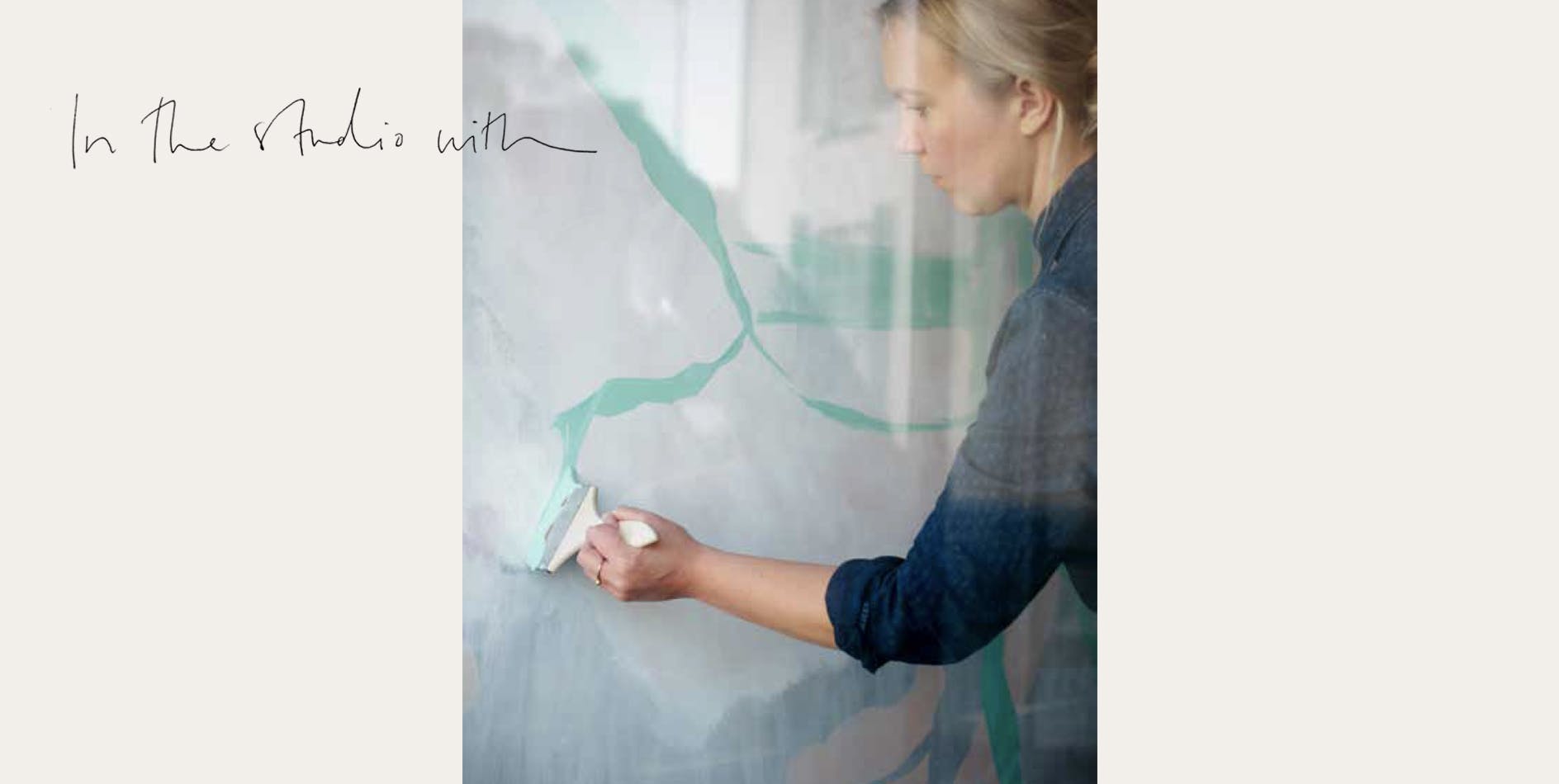 A Saturday ago, I walked the short distance from my house in Falmouth to the studio of Kitty Hillier – a former dairy, with its double frontage offering a constantly changing marvel of process & life of an artist at work.
– A piece by Martha Holmes
Where did your routes in art and design begin?
Since school, I have been massively into art – the art room was a bit of a retreat, spending hours perfecting sketchbooks. I remember at school mixing sand into paint and collaging bits of wood onto the surface – having grown up in the countryside I was always allowed to be wild and run free, exploring the landscape and using what was around me – that has definitely followed into the way I use materials in my work today. Straight from sixth form I came to Falmouth to study an art foundation, which was brilliant at giving me an insight into all sorts of media, techniques and materials. I was drawn to works by Rauschenberg and Tàpies – I just love those European walls with peeling posters – it's the layers and depth to the works, almost installation in form, that I find myself always being fascinated by. Experimenting with collage, wax, oily enamels and stencilling layers became my preoccupation on foundation.
My fine art degree at Bath allowed me to continue this experimentation – I always knew painting would form the base to my work, and Bath gave me the platform to push this, working with a number of brilliant tutors, some being celebrated abstract painters themselves. My first year at Bath was similar in nature to the Foundation, they really encouraged exploration of materials and play within your practice, allowing for mistakes and new routes to be discovered, and also finding those other artists who sit within your sphere of work. Plywood became a key material – it offered that support to scratch into and work back the layers, something that canvas doesn't allow.
During my second year at Bath, I came across the work of DJ Simpson, who uses a router to map doodle forms into plywood – I began exploring this as a tool and since then really I've, have been obsessed with the opportunity ply offers as a material. I've tried other types of wood – there is a beautiful piece of walnut in the corner over there, however you just don't get the same layers – and that is the part I find so interesting. You can use such a variety of tools to alter the surface, the opportunities are so varied. There is something a little unhinged about creating a painting and then making these marks on top, to be obliterating parts of it with a chisel! I think that feeling that you can push your work without fearing the outcome is important – I try to record it at every stage, especially that minimal composition that the work begins as. Sometimes you just know when a work is finished and resolved, other times I have to live with them for a bit and keep coming back to them. Seeing them up on the wall together as a collective really helps.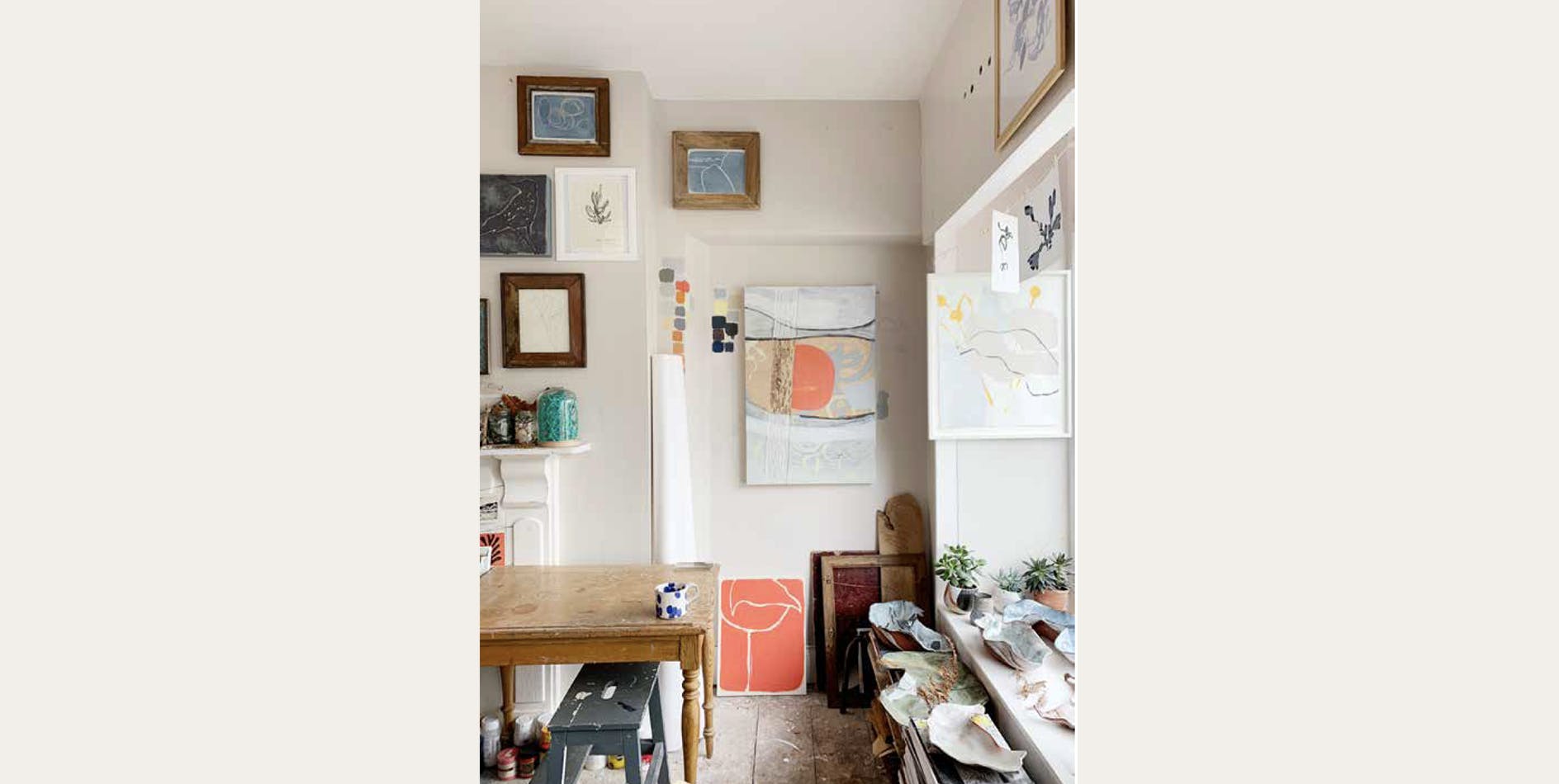 Your subject matter – have you seen it alter over time or be influenced by a change of place?
The landscape has been a consistent interest – often quite empty, sparse landscapes. I have forever spent family holidays in Cornwall, and being one of five, we would often pile into the car and head to the coast to spots like Constantine Bay with that huge stretch of beach – so that expanse of landscape has always been present when growing up. I remember at Bath beginning to properly document the landscape through sketches and photo montage – I can just picture that stretch of road heading off the A30 towards Trevose Head where you get those flat open fields for miles with windswept trees in the hedgerows, wind turbines and the sea in the distance. Or driving from St Ives towards St Just along that windy road with undulating pastures and dry stone walls all empty and black but then, those huge granite stacks dotted about. I'll try and sketch when I am out too or collect objects to use for observation back in the studio. I used to enjoy saving the flower arrangements from my mum's house when they were just turning and forming seed heads; I've always had this fascination for collecting unusual natural shapes – they'll often form the starting points for a new piece.
I've always enjoyed minimal abstract compositions – at Bath I was encouraged to really strip back my work, almost creating a language of my own marks and motifs. In my final year I developed my abstract painting, often rotating the piece as as I work to visualise the marks differently and to allow the subject of the painting to be fluid and constantly changing. I was drawn to the idea of anti-narrative and allowing the viewer to bring their own interpretations to the work.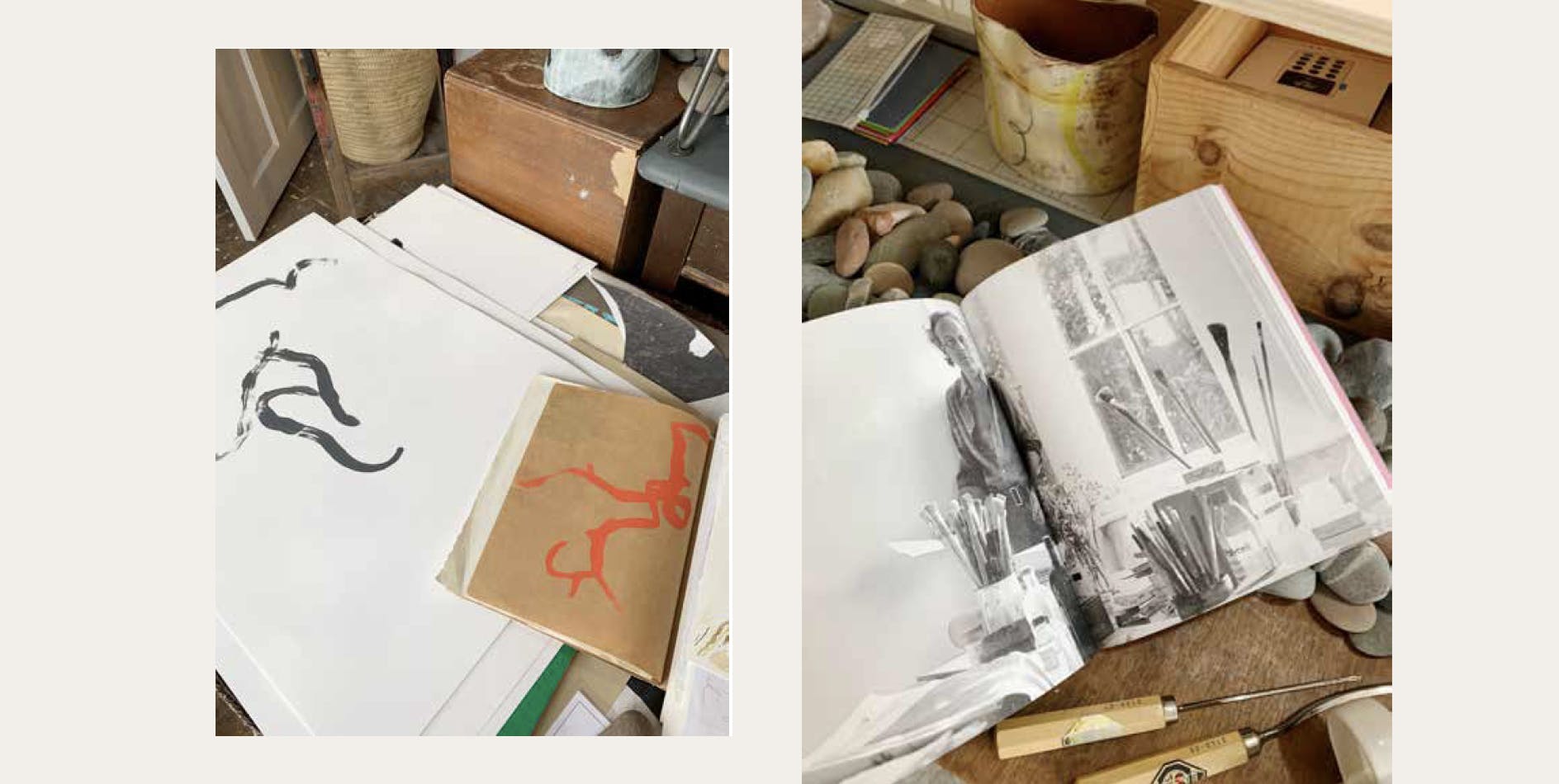 Do you see your works on paper as a reaction to the way you paint on wood?
I always make drawings alongside my paintings, often as starting points, creating simple forms and shapes that I can add to my language of marks as a I paint. I've been experimenting with different types of drawing – I do a lot of blind drawing, when you are just looking at the subject rather than the board – allowing yourself to lose an element of control, often giving unexpected forms.
The paintings on paper though are quite recent, as are the ink drawings, I think those have happened alongside rather than in preparation for the paintings. I am just really enjoying that they can be far more minimal – simple compositions and a tight palette of two or three colours.
Fairly recently I've begun working with earthenware clay and making a series of ceramic pieces – I'm calling them 'sharing dishes'. It's not until I look at them now actually that I can see there is quite a significant relationship between them and the minimal paintings on paper. I am just trying to determine how many marks and brush strokes to layer onto the dish or whether to allow the glaze to do its thing even more. My move towards ceramics has been fuelled by a constant interest in sculpture and of course the modern art heritage here in Cornwall – it is hard not to be inspired by Hepworth. I am using a red earthenware clay at the moment, a material that has been used to make sharing plates and cooking pots for hundreds of years – simple ordinary objects used by people in their daily lives, an association I like.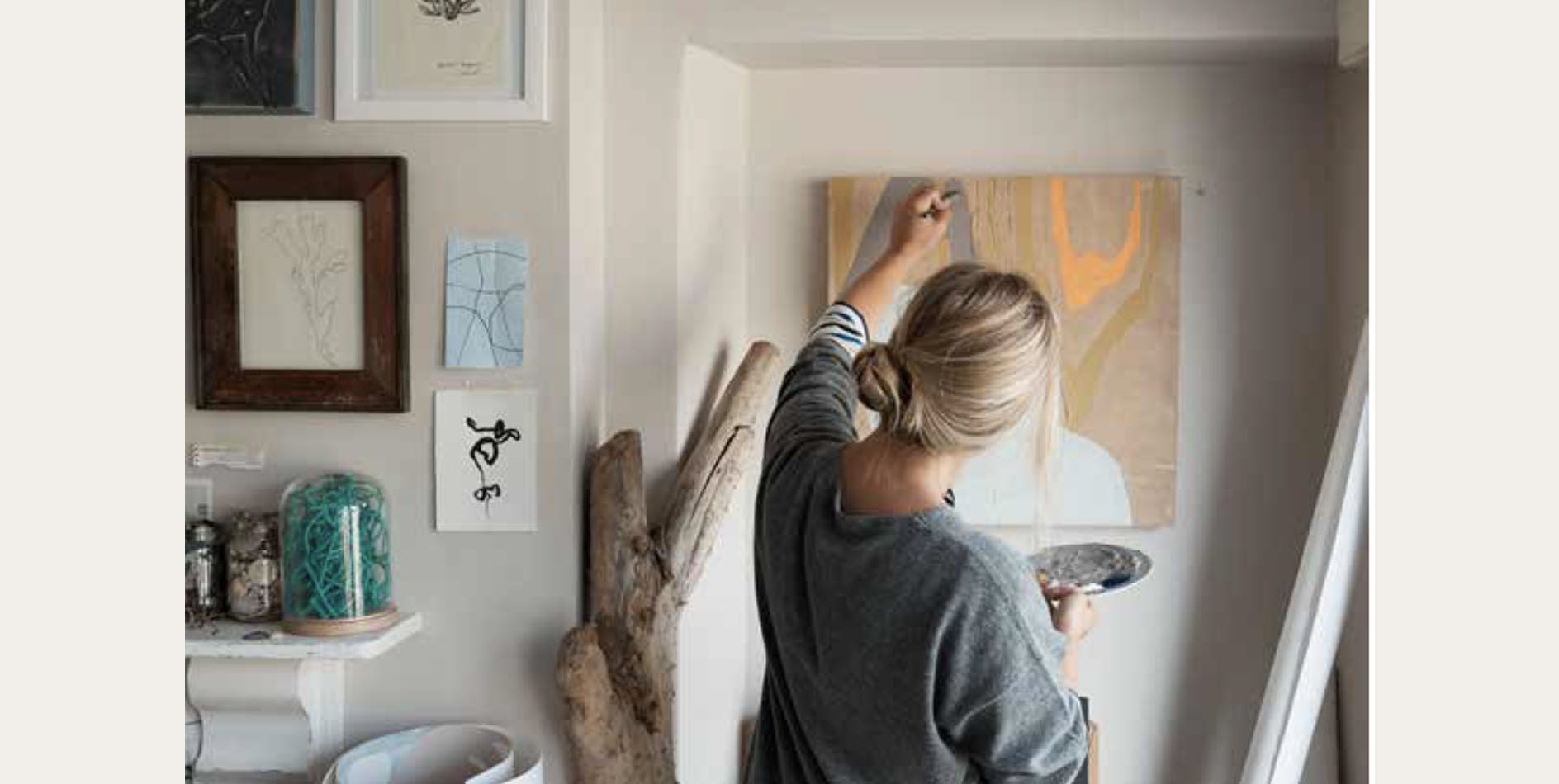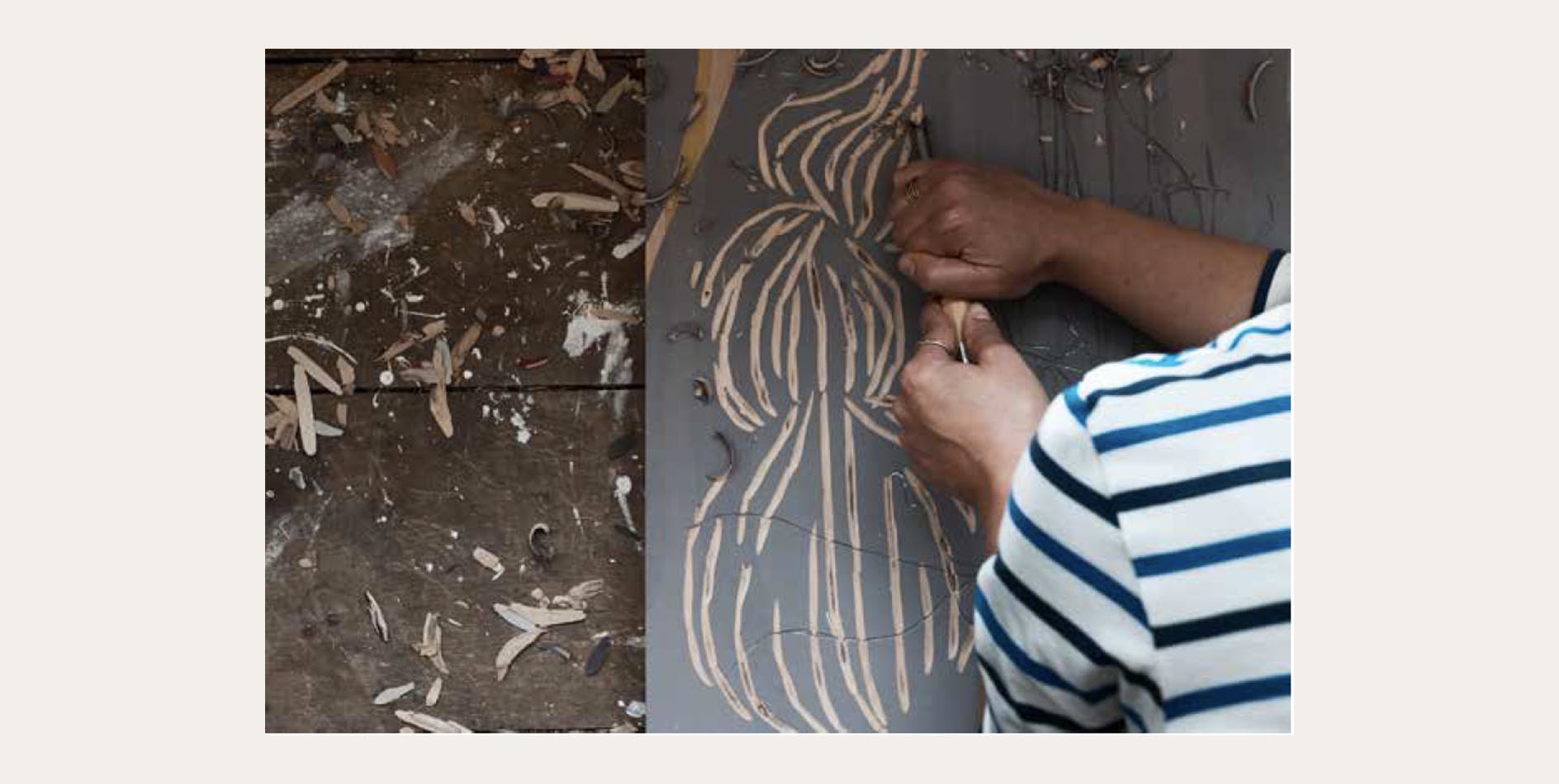 I like how you encourage conversations to form around your work....
Yes, I'm interested in creating space for the viewer to read into the work – I love how despite the sheer scale of Peter Doig's work, you can become completely absorbed in a 10cm square, always seeing something new. I have always encouraged different ways of seeing within my work – that deeper space beyond the surface layer, how the light and materials talk to one another, or the negative space between shapes and colours – elements that allow different conversations to form between the viewer and the work. Contemplation is also important – the idea of unfiltered experience and conversation – that is what I feel is the link between the different layers to my practice at the moment.
Are you constantly producing work or are there times when you step back form the studio to reflect?
I definitely have peaks and troughs with my work – I'll have periods when I am in the studio producing a lot of work and days when I'll just spend an hour or so in the evening reflecting or recording a few notes in the studio. I try to have regular studio time, even just an hour allows a constant flow of thoughts to be retained, keeping your work at the front of your mind, I find that so important.
I will sometimes try and alter the way I am working – last summer I spent time on one of the Falmouth Intensive courses – a week spent critiquing your work alongside other creatives and a team of tutors; this one was based solely around abstract painting. Changing the environment and people I was working alongside allowed myself to go back to the basics of how to make a good painting. It can become quite solitary being in the studio on your own – having that conversation around your work or between creatives is something I often crave.
I have a day job that sits alongside my painting, creating content for Seasalt; often snippets of my day tie into my work in the studio and my life as a practising artist in Cornwall – I've certainly had many jobs that don't overlap! I love that by having a day job it allows my studio time to be completely free and experimental if I want it to be – I can make work for the works sake.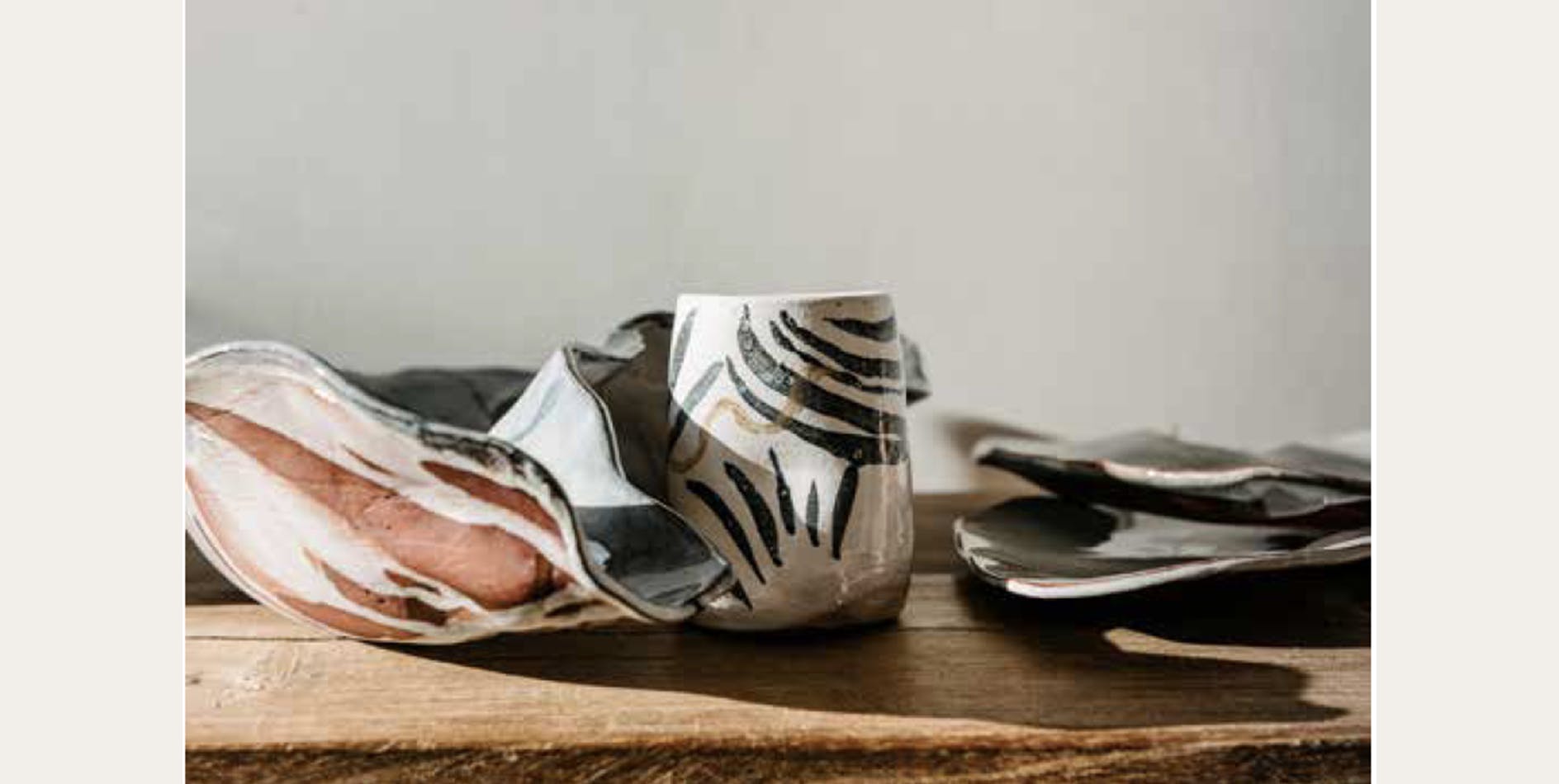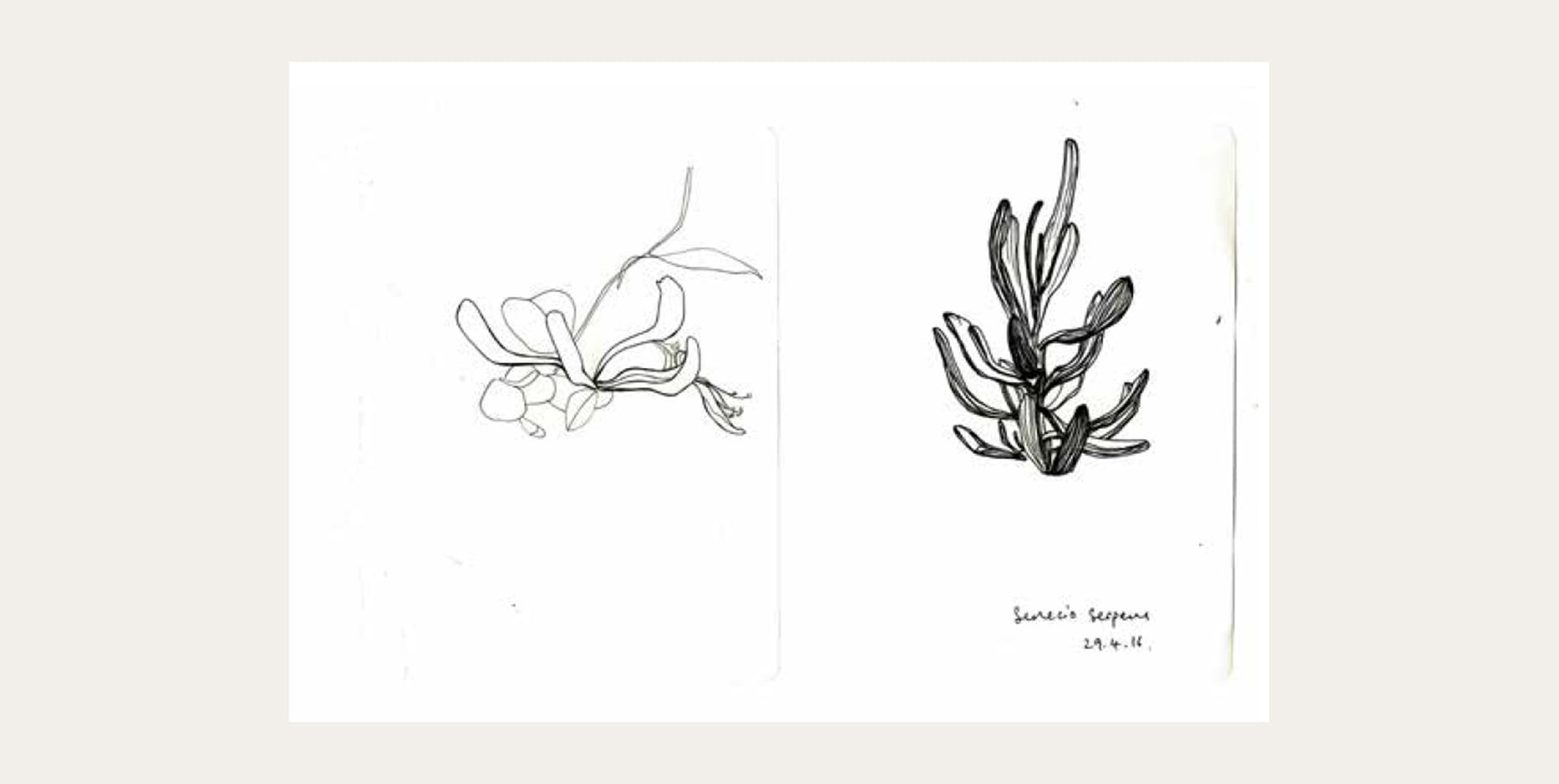 You recently had a solo show at Caro Somerset in Bruton - are there particular thoughts you've taken away from that experience?
The show came around just at a point when I was experimenting with ceramics, beginning to push the minimal ink drawings and also my paintings further, but with a degree of uncertainly of how to connect one another and where to focus my concentration. The show allowed me to step back and see all of the work in one space together, away from the layers of the studio – I was able to make connections between the ceramics and the paintings and how they responded to a different space other than the studio.
People offer you feedback too or express what they see in a particular work – that is what I really value from a show like that, the critical feedback that encourages you as an artist to look at your work differently and continue to play and push a concept.
There was an early dish I'd made that I had in the show – an older man probably in his 80's, stood looking at it for ages – it was definitely the odd one out in the ceramics with more coloured shapes on it. He really picked it up and connected with it – watching him react in that way then made me look at it again and think 'oh, maybe I should try working in that style again'. It sometimes takes a change of space or simply time to allow yourself to properly appreciate the piece.
How do you document and research around your subject?
I try to get up to London as much as I can to see exhibitions, and also Hauser & Wirth in Somerset where I grew up – it is such an important part of my work to constantly appreciate how others have made art. I'll often have a stack of the most recent journals and postcards from a trip sitting in the studio – most recently was 'Modern Couples' at the Barbican. These will probably sit there for a few months before I come back to them to remind myself of the first hand experience of seeing the artwork.
I use sketchbooks too as a process of recording and noting – I'll always try and stick bits of paper and scribbles I've done while I'm out back into them, they might be experiments or a note trying to resolve the layout of a particular painting.
In a year's time I might you'll look back at these and remember exactly where I was, it forms a journal, a way of recording your work in a very unfinished way.
Documenting time and place in their simplest form – these books are such a mess compared to the perfected sketchbooks I made at art school had!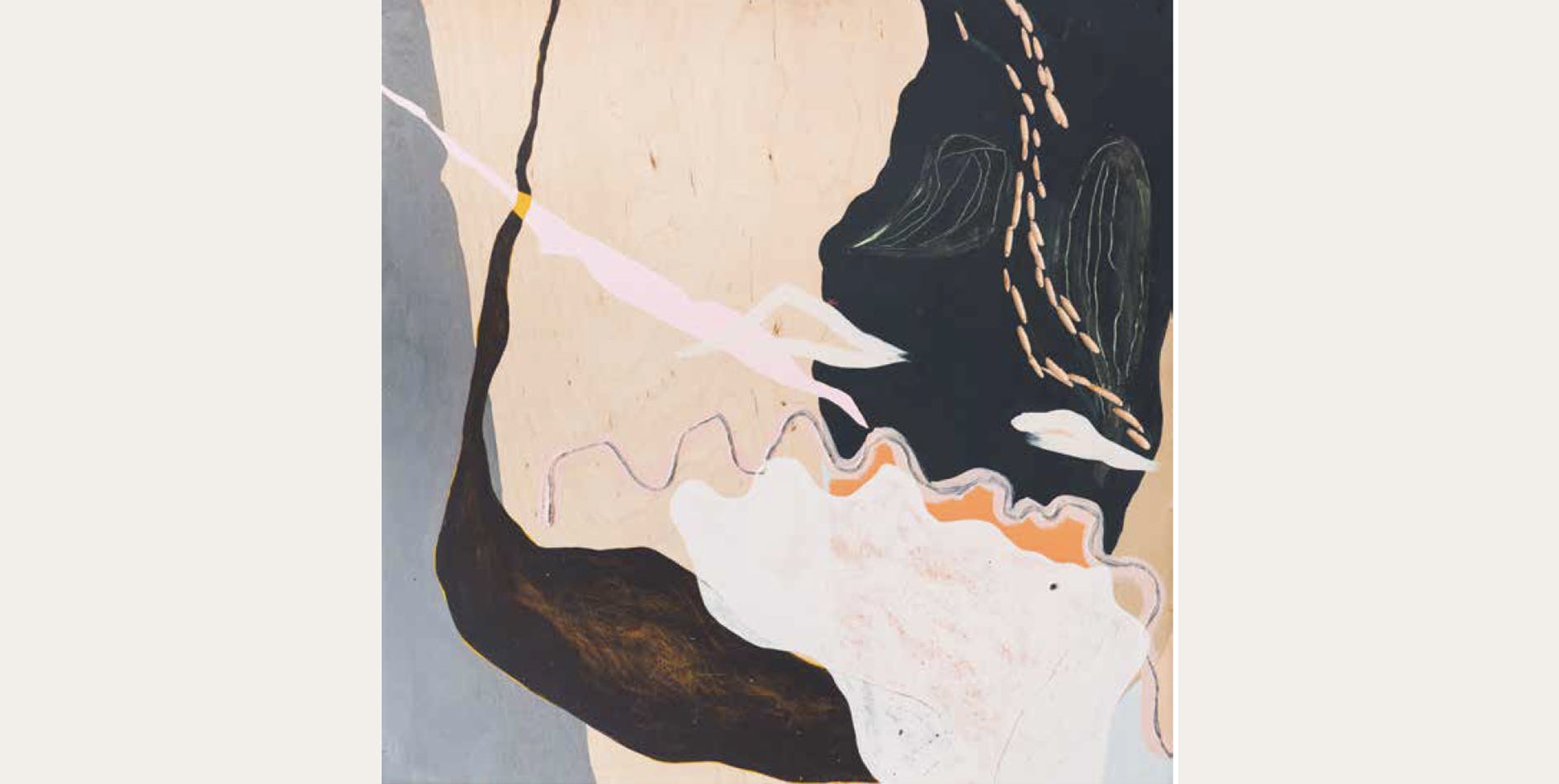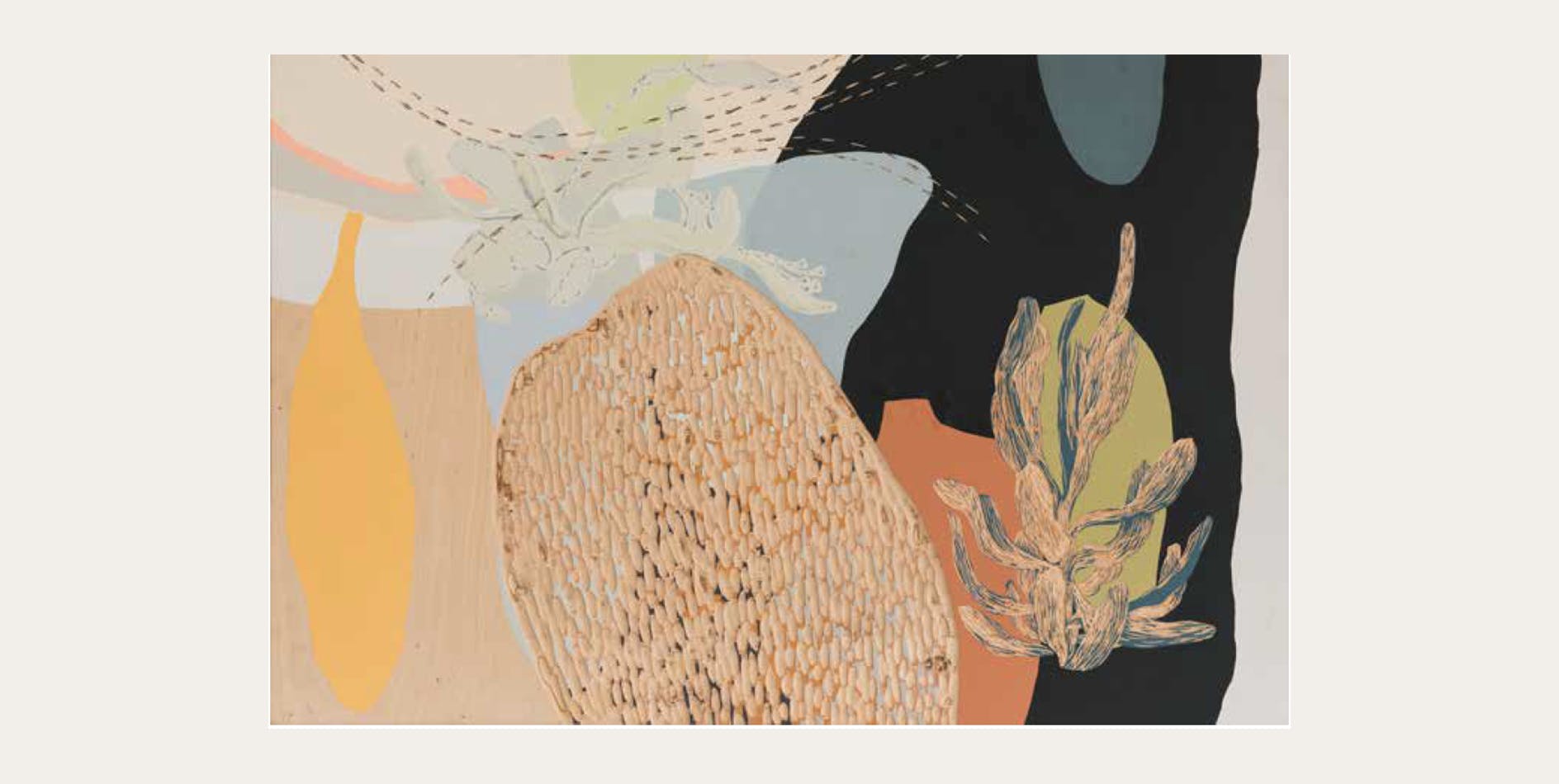 Do the titles of your work play a particular role in how the viewer appreciates the piece?
The stage at which I title my work totally depends. I'll often keep notes of ideas for titles in my sketchbooks – I don't want to lead the viewer too much as to what the original subject matter was. It is far more important to me how a shape sits on the surface and the stories the viewer brings to it, rather than the origins of that form. I do however, dislike it when a work is 'untitled' – I've always wanted to title my work so there's something that offers a glimpse into my working process or perhaps reason for making the work. Often I take words from lists I've written whilst out – particular phrases from exhibitions, song lyrics I've listened to or conversations overhead in passing. I'll sometimes have a working title in my head; sometimes it feels very right from the outset, but more often I'll be nearing the end of a piece and flick back through a sketchbook and decide a title that reflects my working process in a more resolved way.
I have notes all over the studio too, there is actually a newspaper clipping pinned up over there, it reads: 'we are all solitary' – that is quite a dark thought but something about it spoke to me, and after finishing a piece, I felt those words connected well to it and so the title was formed. This one reads 'late sun, low tide' – probably a note I made whilst I was out sketching. On my phone is where I have stored the longest lists of ideas, and when I'm driving, so many times I've had to pull over and note something down! It can just be a specific combination of words that triggers a thought.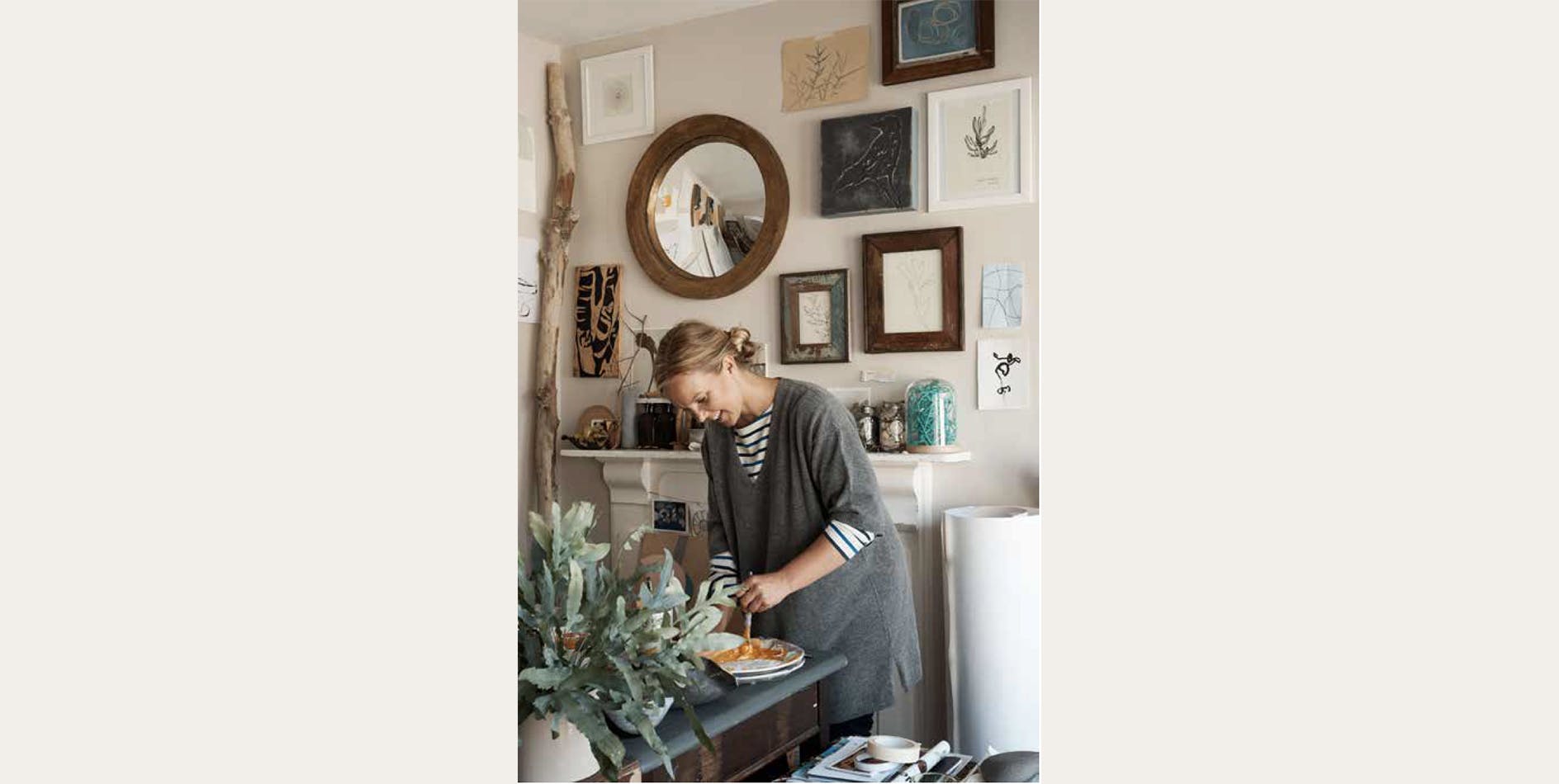 Are there particular artists you look to for reference in your work?
I'll frequently refer back to painters Fiona Rae and Peter Doig, and of course living in Cornwall, the St Ives' modernists allow constant reference – both in the way they worked and the landscapes they worked within.
There was an amazing show recently of Alexander Calder's sculptures at Hauser & Wirth – I'd never seen so much of his work in one space before. It was that idea of painting and sculpture mixed with everyday objects coming together – it felt very timely with the combination of ceramics and paintings I'd been experimenting with. I use Instagram a lot – I find it fascinating that you can be looking at someone's work on the west coast of Australia and it have similar qualities to your work. I do still love flicking through a book and being surrounded by objects, postcards and notes I've collected.
Return to posts