Art Direction Forecast 2019
As a photographer and lover of all things beautiful, I am fascinated with current trends and even more so by trend forecasts. One to get ahead of the game, I trawl the internet in search of fresh art direction to inspire both my photographic and design work. Where 2018 had us firmly placed in Scandi chic, drinking speciality coffee from keepcups and spending our money on Athleisure and coconut oil, 2019 looks to focus heavily on the conscious consumer, upping the ante on plastic free packaging and retracing art history when it comes to art direction. Read on to discover the visual trends we anticipate being important in 2019. 

The conscious consumer 

With nearly a third of under 25's turning their back on alcohol, more than half of young people in Britain having tried a vegan diet, and a great number of retail exposing documentaries, a move towards more mindful consumption is inevitable in 2019. I am hoping this will push designers, product developers and investors to explore more sustainable materials by thinking outside the box and funding more experimentation in this field. Agar plastics, hemp, bamboo, recycled rubber, cork, plastic-bag marble, and pineapple leather are all things we are currently experimenting with and researching in the studio at the moment. 
These physical trend advances lead naturally on to the visuals that accompany them… a more natural aesthetic, less faux glossing, greater transparency and honesty, more real human connection and warmth.
Will this also lead into Instagram's algorithm? Our minds have become so used to the speedy scrolling down a feed of sameness, when was the last time an image made you stop, consider and connect? With a continued growing number of 'bot' accounts, overly preened feeds (see the uproar that surrounded the Listerine influencer sponsored ads), and the knowledge that Instagram prioritises posts that have more true interaction in the form of long tail comments and real discussions, it seems only likely that we'll be visually changing to more natural (albeit beautiful) imagery and 'outside the shot' additions.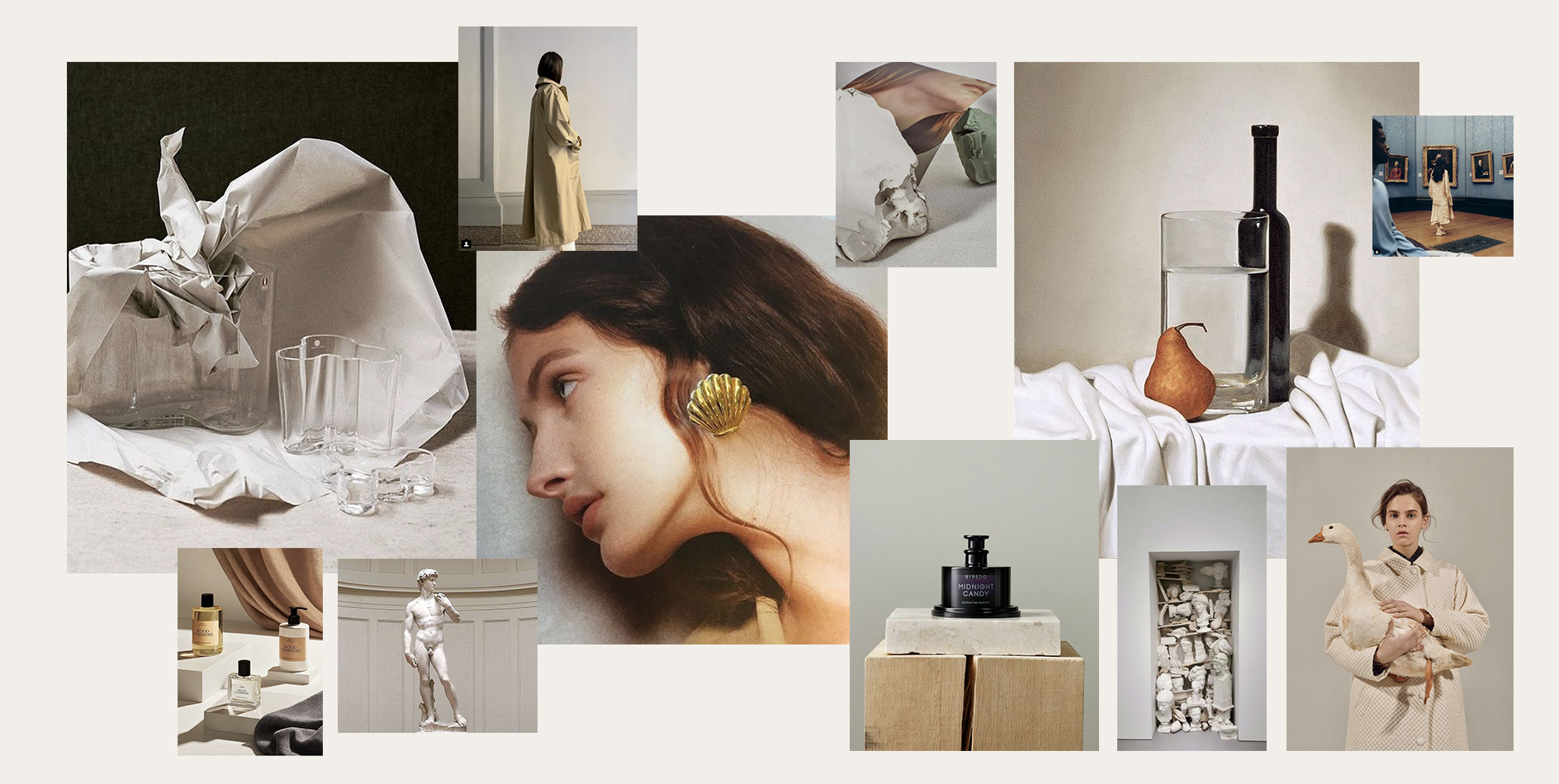 Quiet, contemplative still life photographs with painterly backgrounds, natural materials and striking portraiture, have been populating my Instagram feed for some time now, many with art history references at their core. Senior Art Director Lauren Catten says this is due to new artists "reigniting the idea of craftsmanship and artistry in an age where it's never been easier to take a photograph," while also employing a range of experimental and traditional methods to elevate their work". I couldn't agree more with this sentiment and the sense of craftsmanship is something I continue to build within my own practice. In need of inspiration for your next lifestyle shoot? I recommend looking at the work of Leonardo DaVinci, Michelangelo. The magic of this trend is in how we repackage this incredibly recognisable aesthetic into something fresh, modern and unexpected. For contemporary inspiration look at content from @sophiaippoliti and @maggieontherocks.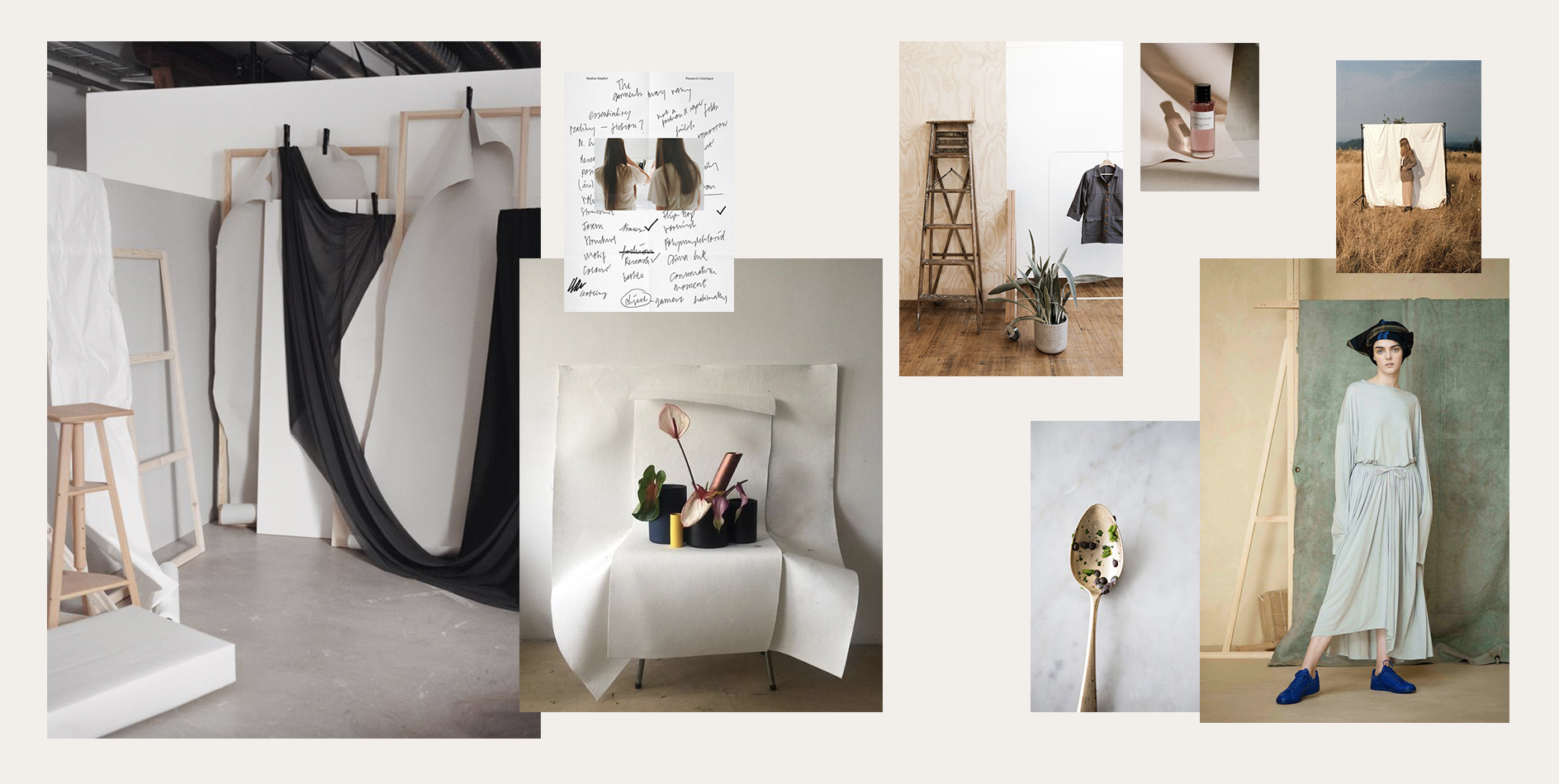 As a result of growing resistance against retouching and perfectionism, I am seeing more and more images incorporating the wider set as part of the final shot, resulting in an undone yet still highly curated style. By exposing the studio set design, using handcrafted props, including features that would have usually been edited out or shooting haphazard and out of focus, are techniques I have seen used to create this sense of candid-realness in a way that is both commercial and appealing. There is a certain skill in catching the consumer off-guard with these images whilst still remaining refined and thoughtful. For visual reference I would recommend @venamour, @adoredvintage and The Portland Studio. 
For more inspiration see our Pinterest page. 
Return to posts