Studio Spaces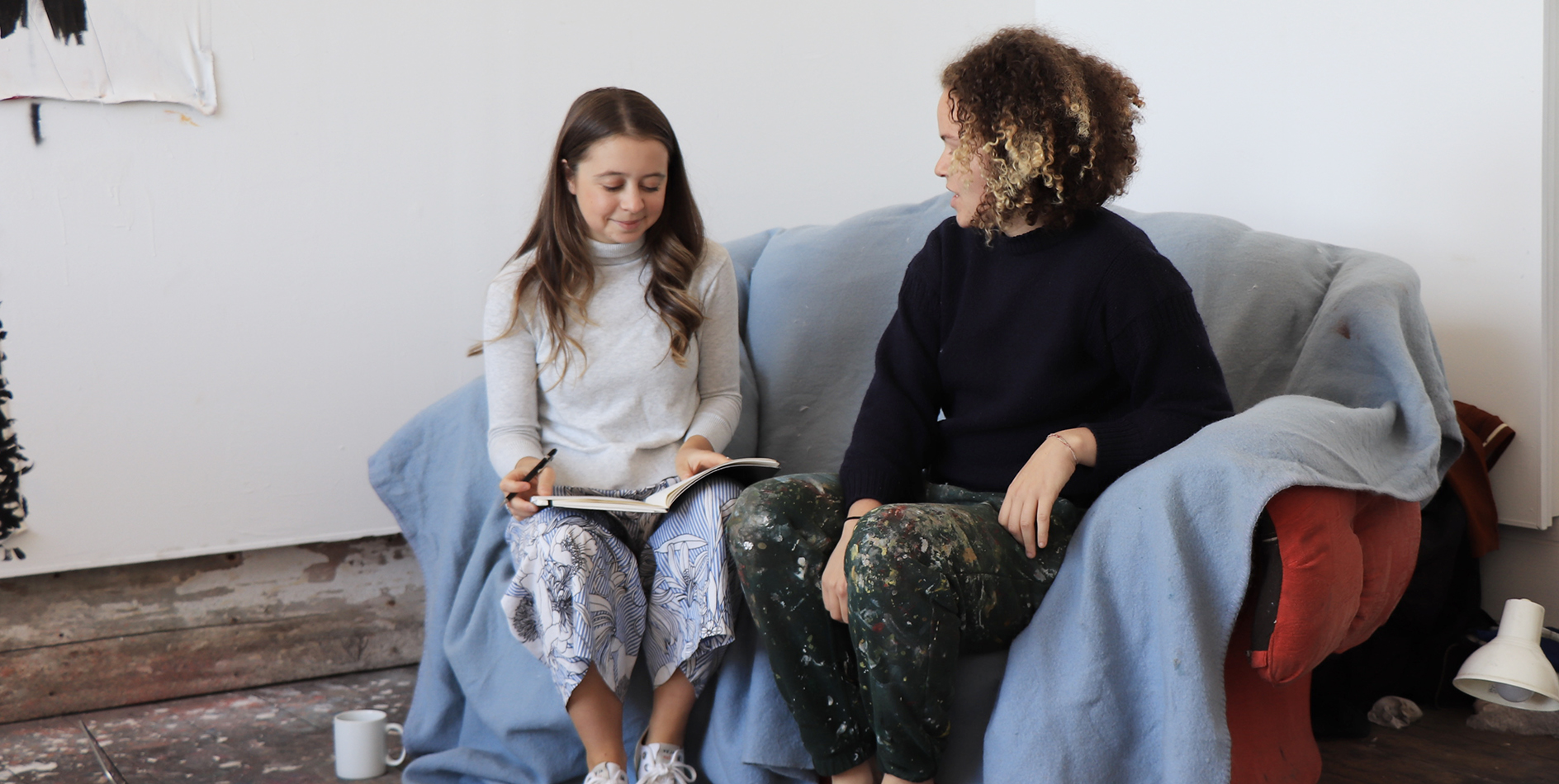 A recent residency in Iceland, the tangibility of film photography & the concept of a 'fluid identity' formed a series of creative conversations between Ella and I, as we sat, sipping green tea, in the corner of her studio one September morning. 
– An interview from Martha Holmes
How did your creative career begin?

"I recently graduated from Falmouth University having studied a degree in Fine Art – leading up to that point I have always had a fascination with painting. Around the time of my GCSE's was when I made a real connection to it as a form of expression – my tutor encouraged me to experiment, be confident and just go for it. Leaving school I spent a year pursuing music in London – taking the time to promote myself before beginning a degree in photography at Falmouth. At the time, I think I saw this as a creative medium with greater employability, however, three weeks in, I felt I really had to paint – switching to fine art suddenly gave me the breathing space to experiment. I feel like it has been a slow accepting process, it has taken until now to realise these are all linked – I am the artist, with these all being aspects to my creativity. Finding the most appropriate form of expression is important, if an idea works as a painting great, but if it doesn't, it might work as a song or a poem, a photograph, or maybe even a piece of writing – this has given me the confidence to not feel restricted by a medium, to be more interdisciplinary".

How important is the landscape around you? Does it alter the way you work?

"I've always been very influenced by a sense of place, not just the visual aspects of the place but your personal experience – how it makes you feel and the memory you have of it. A lot of my paintings are worked on from memory – it loosens up my practice to have few preconceived ideas of how the visuals should form, often taking ideas from the work of abstract expressionists - the concept of trying to imply your experience through the painting. Alongside working from memory, pictures on my phone form a large source for my visual stimulation. I collect, date and categorise pictures that I am drawn to – there may be something in the aesthetic that I like or it has a word play that I am drawn to, or perhaps a colour. I will often get an idea for a painting from the title I have given it such as 'colourful corner conversation'– a title I have written down because of a connection I've got to the image – a lot of it is based around semiotics, using a photo as a stimuli for a painting, to form a new narrative. I love what the title can do to a work – words are coming into my work a lot at the moment, my song writing has definitely influenced this".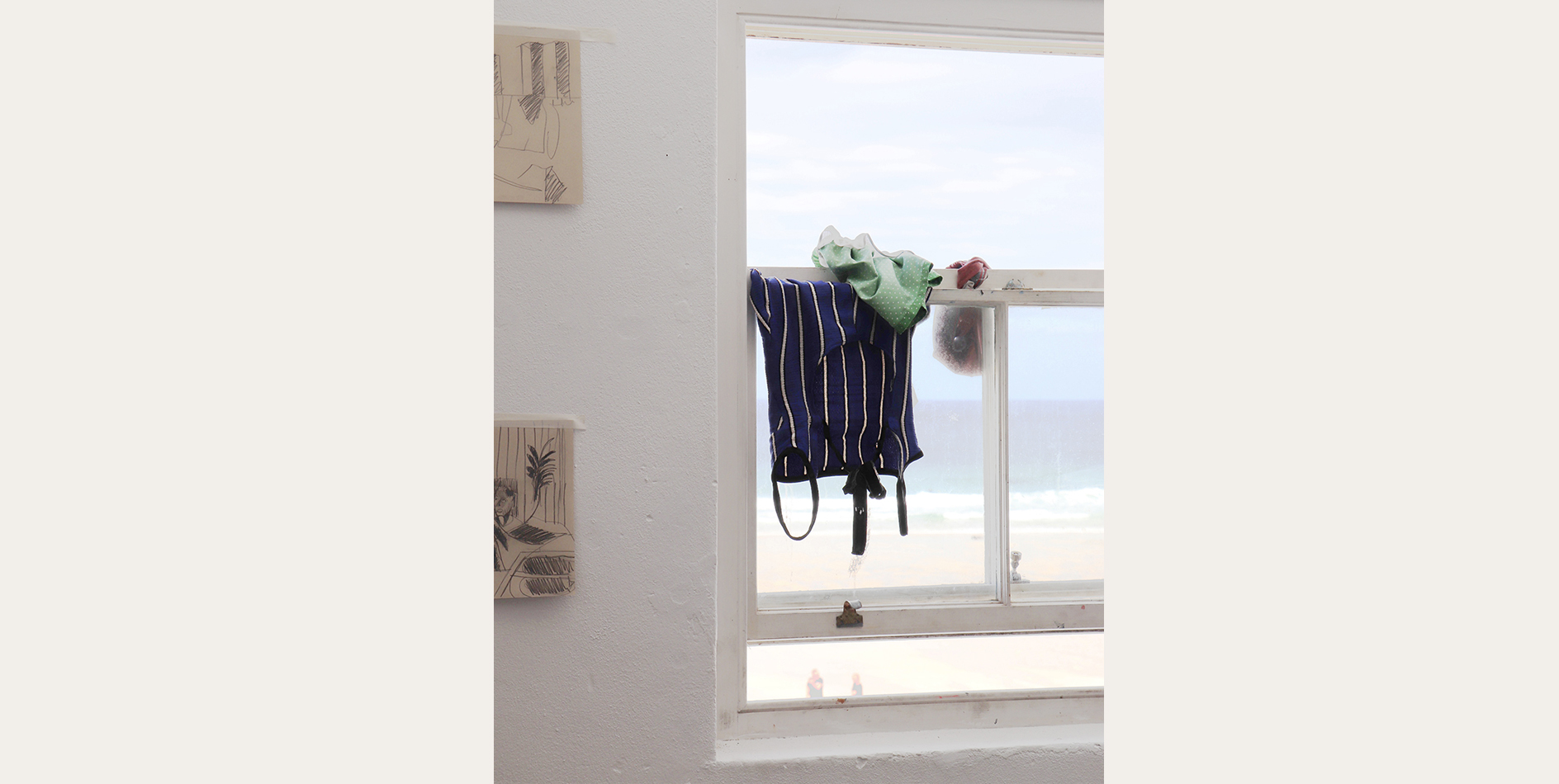 Could you discuss further the mediums and subject matters you use?

"I am working with oil paint at the moment – I like its forgiving consistency – you have lots of time to manipulate & alter the work. Having said that, when it comes to drawing, I do like the sense of immediacy it gives – that is something I would like to translate into painting, as oil can often be overworked'.
'In terms of my subject matter I am drawn to everyday situations, but also colour – if I see something that attracts me because of its colour combination, that will be an immediate attraction. People are reoccurring in my work but at the same time I am trying to move away from this, the figure poses a certain restriction – it can take over the work. Instead I like to subtly hint its presence – the subject matter or title could be figurative, or the subject could imply a figurative connection, just in a less direct form".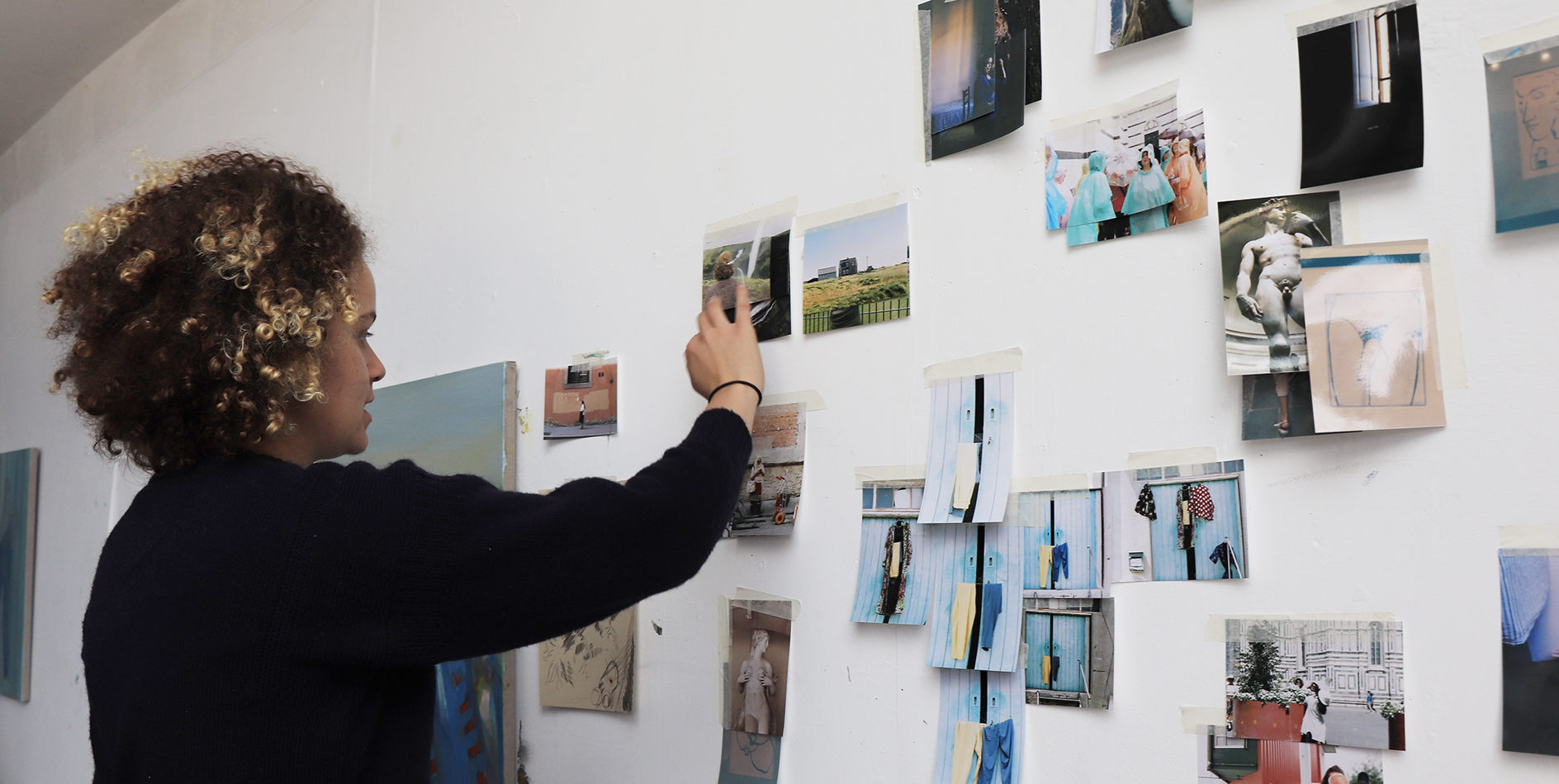 Are there certain attributes to your studio space that are reoccurring?

"I like to surround myself with visual stimulation – if I am in a mood unsure which creative direction to take, I will often look at my wall and if something feels right I'll work with it that day – it's like having a conversation with yourself. I will always have a lot of work on the go at once, allowing myself to move freely between disciplines, whether its writing, painting, drawing or just picking up my guitar".
Is there someone you always look to in your work?

"There is one artist who I really love, who I always will - Richard Diebenkorn. I always return to his work because of his colour palettes and the simplicity of his subject matters, for example, depicting daily life of a woman on a beach – it is a simple observation but just painted well – he reminds me not to overcomplicate things".
It seems film photography plays an important part in your work?

"Yes I use film photography a lot – I like the colours it achieves and how you become a bit precious with the moment. I'll still use film photography that I took five years prior, I know if I haven't had an idea for it yet, I will at some point – every now and again I'll go through them all and pick out photographs to be translated into paintings. I like the tangible connection you can build up with film photography, that relationship you can form that you don't get from a phone screen. I will pin up a series of photographs and try and make connections between them, whether that's similarities in colour, structure or subject, these will form stimulation for a new work. I like to see the photograph as an immediate piece of inspiration but once the painting has begun I remove the photography, letting the process of painting become different to that of the thinking and original influence of the work".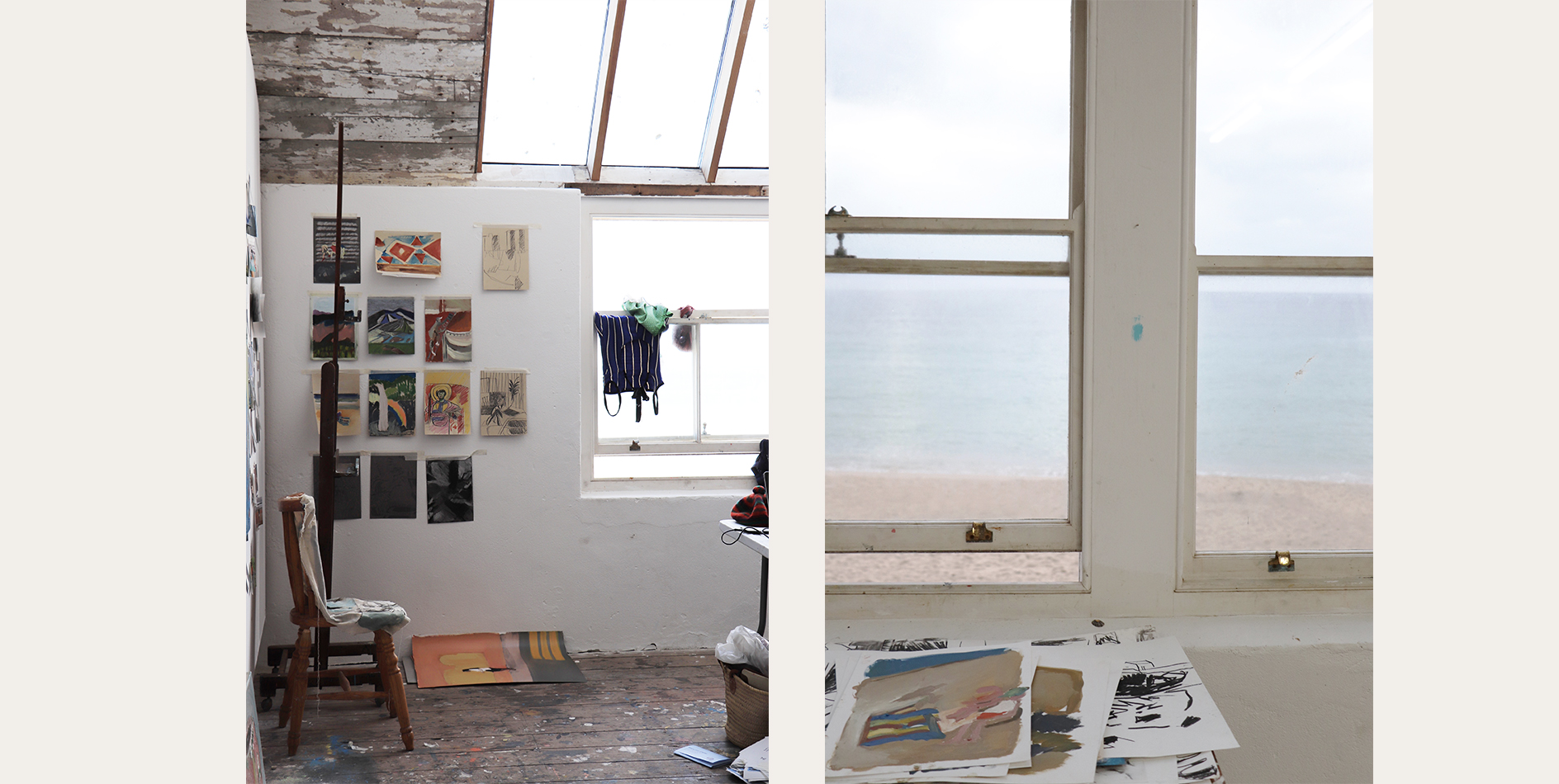 Could you talk about some of your previous residencies to Porthmeor?

"I did a research trip for a month in June, looking into the artist Caravaggio – a renaissance painter inspired by daily life, often in a theatrical sense, who frequently uses stock characters to stand for representations of characters in every day life. My work last year was to do with performative states of being, whether that's you and your private space or you in a public social space, how you may act in those situations and put on an appropriate character. This very literal theatrical sense in a daily situation sat inline with the direction of my work.
I spent a month travelling Florence and Rome, visiting all the churches that his work was in situ, before joining a theatre company in Tuscany for two weeks. We worked on a play called 'In Guifa's shoes' with the concept of a fluid identity, through a series of folk stories that had travelled from the Middle East, throughout Europe, ending in Italy. I was drawn to this idea of a fluid identity – of having different aspects to your being, created through other peoples representation of you. 
I then moved to Iceland, with a proposal to make links and compare the lighting over Italy and Cornwall. I was very in-tune to the lighting differences – Iceland presented this grey, white and misty ambiance, with only three hours of darkness a day – a very hard landscape compared to the softer palettes of Italy and Cornwall. 
I worked also for a multidisciplinary artist Rangnar Kjartansson, on a 168 minute film, called 'Time Piece' – this gave a new insight of working in a large team, learning skills from one another, and seeing the role of painting as something so short lived – disposed of once it had served its purpose in the film. Making the sets inspired me to make my paintings more sculptural – I made a series of mountain paintings called 'Mountain Musings', inspired by the blue of the distance, I was really drawn to the idea of the unattainable beauty that it held and how as close as we get, it will always be far away. I wrote some songs to further it, surrounding the idea of 'progress' that you are longing for, a metaphor for development and growth – how I saw the horizon. Again, this was an everyday observation that triggered a trail of thought for a body of work".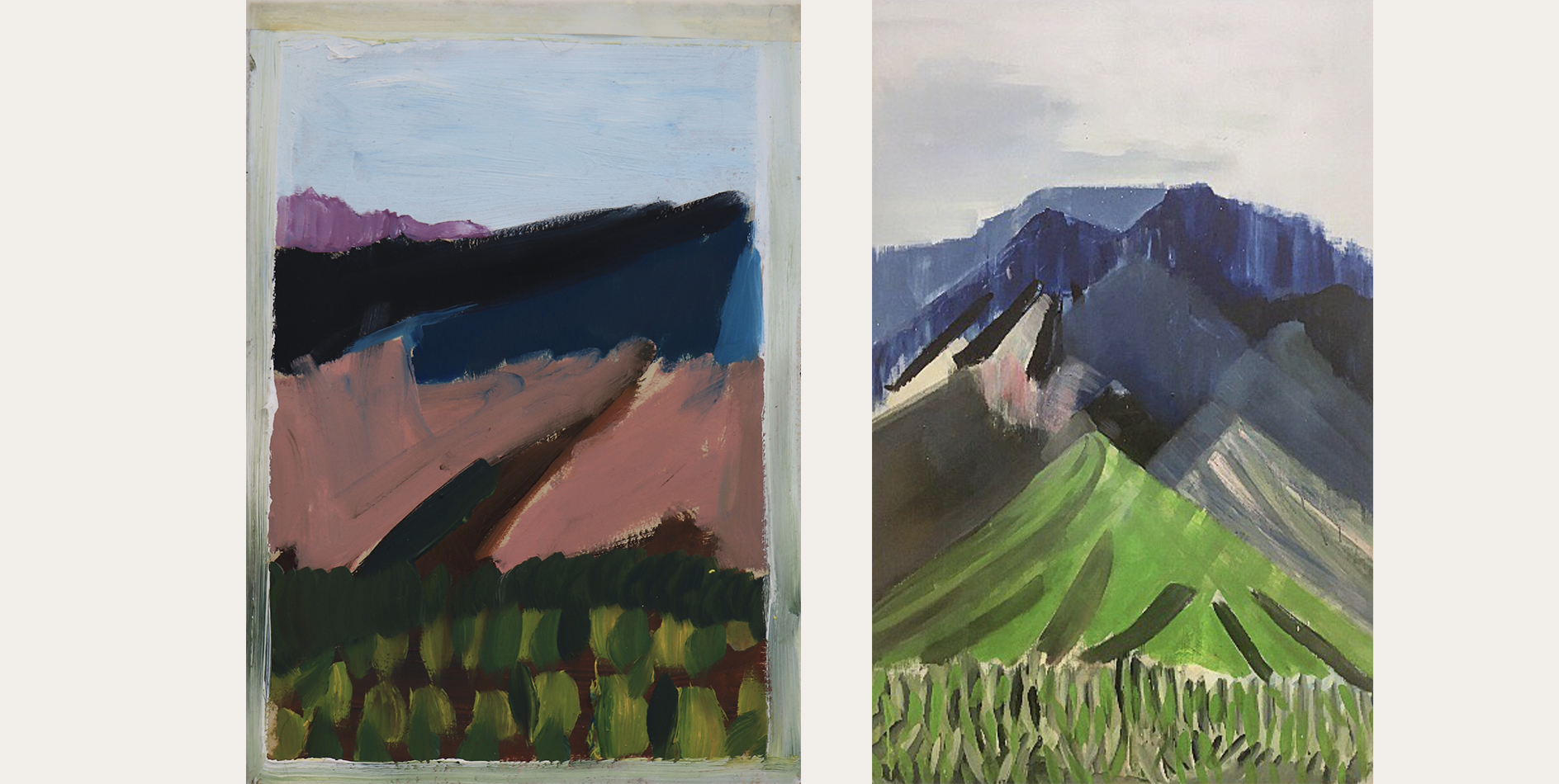 How about outside the studio? 

"Out of body experiences are very important – I swim a lot, I find it allows me space to leave creative conversations behind and firm up what's important in your head. It also cleanses you – having grown up in Dorset by the sea, I find myself always drawn to water wherever I travel. 
It's healthy to be able to see a horizon without grabbing hold of it – I find the opposite in cities, you can grab hold of anything you want, you don't have the same perception of space.
I listen to a lot of music – I have playlists for places, which I listen to in the studio or when I'm walking. I enjoy making an associative playlist and then listening to them in new places. 
Outside the studio I keep journals and diaries that I often revisit and extract things from – snippets from letters I've written, notes from my daily documentation, lyrics from other peoples songs – I see these words as visually stimulating. When I first started in the Porthmeor studios, I wrote a whole series out and stuck them on the studio wall – I then made associations to photographs and drawings I'd done, it's a way of forming new material out of existing work. 
I now want to find a definitive visual language that I'm confident and honest with – I think it can be quite turbulent after university and I am now trying to reach for something that is more grounded. I'd love to move to Copenhagen, but in the meantime I'm planning lots of small city trips – going to Iceland has given me the confidence to be happy in another place – there is that sense of adventure that I'd like to find again. I'd like to put roots down somewhere for a period of time, long enough to engage with the place, that you can make memories and work from. 
I have a studio lined up in Bridport in Dorset next month that I'll be sharing with both my parents. My Dad is a bookbinder and musician and my Mum a poet and visual artist. We have a lot of interesting conversations – you can bounce off each other having such a mix of creative disciplines around you.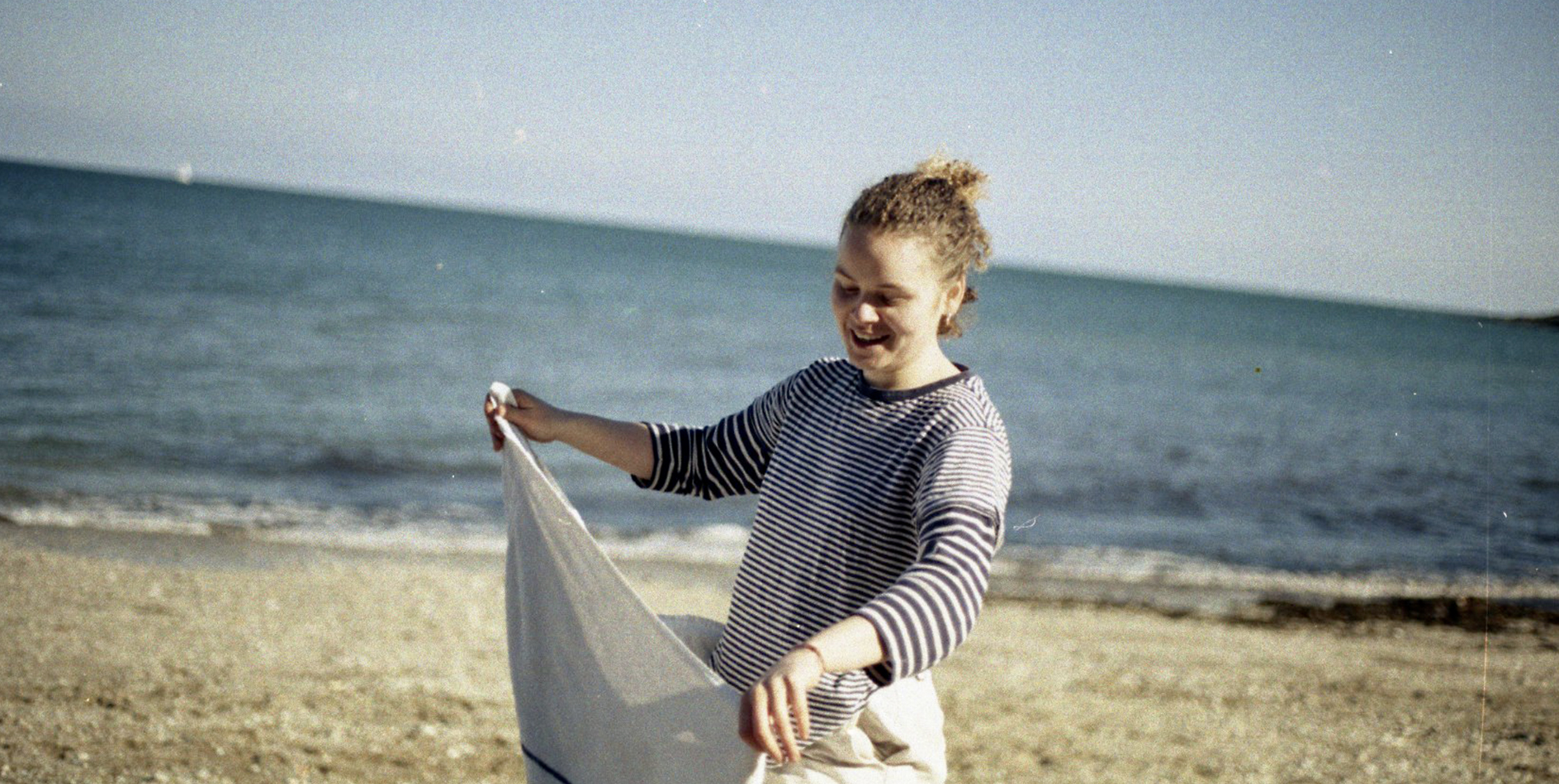 Return to posts